Free Fall News (recent stories highlighted here, scroll down for more)

June 2022: Jim Hamilton's Appearance on The UnXplained
April 2022: Jordan Hatmaker
October 2021: The Ten-Story Rule
September 2021: How Far Did McGarry Fall? A Fair Distance
September 2021: An Unlucky Skydiver's Story
July 2021: A Graphic Novel about Long-Fall Survival
June 2021: Sole Survivors on the Mack Maloney Podcast
March 2021: Catch a Falling Child
February 2021: Be Sure to Enjoy the View
December 2020: The Man Who Jumped Off Clouds
November 2020: Statista's 'No Parachute' Graphic
October 2020: The Flying Greek: Col. Steve Pisanos
September 2020: Youth, Memory, Risk, and Change
February 2020: Miracles Still Happen: A 1974 Film on the Juliane Koepcke Story


Jim Hamilton's Appearance on The UnXplained
June 2022: Author Jim Hamilton appeared on The History Channel Series, The UnXplained, hosted by William Shatner. The episode, entitled "Surviving the Impossible," first aired on Friday June 10th at 9 pm Eastern. Hamilton was called upon to discuss two examples of long-fall survival. One was Vesna Vulovic, the sole survivor of a Yugoslavian airliner that was destroyed in mid-air in January of 1972. The other was Alcides Moreno, a window washer who fell 47 stories from a Manhattan skyscraper in December of 2007.

A short video clip showing Hamilton's reaction to the episode can be found here.

Hamilton has been collecting long-fall survival accounts for decades. He is the creator of the Free Fall Research Page, which documents incidents of long-fall survival. He is also the author of a 2006 report entitled "Long-Fall Survival: Analysis and Publication of the Collected Accounts." He is currently working on an illustrated book of long-fall survival stories, tentatively titled: "Falling: Amazing Survival Stories." You can see some of that work in progress here

Jim Hamilton is the author of:
The Writing 69th, the true story of a group of war correspondents, including Walter Cronkite and Andy Rooney, who covered the U.S. 8th Air Force during World War II.
The Black Cats of Amherst, which uses archival material to tell the story of SSU 539, a U.S. Army ambulance that supported French infantry units during World War I.
We Unite to Serve, the annotated diary of a Congregational minister named Stoddard Lane who served with the Black Cats of Amherst.
Green Harbor Publications hosts the Free Fall Research Page.

The Free Fall Research Page is on Twitter @FreeFallReport.

Jordan Hatmaker
April 2022: Jordan Hatmaker survived an extremely long fall in November of 2021 in Virginia after her main and reserve parachutes malfunctioned in something called a 'downplane' in which both parachutes deploy, but neither operates properly, leaving the skydiver spinning, and not slowing down very much. Hatmaker survived her fall with back and leg injuries that left her hospitalized for twenty-five days. She is recovering and hopes to get back to skydiving someday.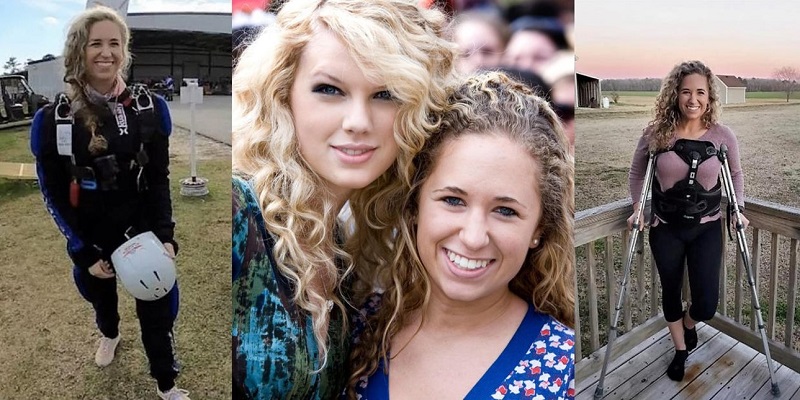 Source: The pictures on either side appeared in a Newsweek article about Hatmaker. The middle shot is of Hatmaker with Taylor Swift at Longwood University's spring weekend in 2007.

The Ten-Story Rule
October 2021: In the gathering of long-fall survival stories, it soon became clear that a minimum fall height needed to be set as a prerequisite for inclusion in the database. Otherwise, someone falling a relatively short distance, say off of a two-story roof or a ladder, could argue that they should be included. While these short-fall survival stories are amazing and life changing to the participant, they pale in comparison to the stories of folks who have fallen thousands of feet.

100 feet seemed reasonable as a minimum height to have survived a fall from. Given that most stories in buildings are about 10 feet high, that set the limit of falling out of a building at 10 stories. Yet every once in a while, a story comes along that nearly makes the minimum height, but just falls short, despite having some amazing angle that makes it worthy of discussion. Such is the case with the story of an unnamed 31-year-old New Jersey man who fell nine stories from a Jersey City high-rise, crashing into the closed sunroof of a BMW 330i. He had jumped through an open window.

The man survived, was conscious and talking immediately after the fall, in terrible pain from a badly broken left arm, and was ultimately sent to the hospital where his condition was reported as 'critical.' He did not provide his name and was not cooperating with authorities according to a New York Post article.

Source: New York Post via bystander Christina Smith

A photo taken by a bystander provides clues as to why he survived the fall. Most important, the roof of the BMW gave way, cushioning his fall. He hit squarely in the middle of the roof, avoiding the car doors and landing him within the passenger compartment of the vehicle. He was also wearing a bulky, hooded coat, which likely provided him some protection from cuts.

Other skyscraper fall survivors described here include: The main difference between the New Jersey man's stories and these others is that their falls all easily exceeded 100 feet. The New Jersey man's fall is recorded here mainly because of the remarkable photo taken by bystander Christina Smith that clearly shows how his fall into the car roof saved him.

Another example of a remarkable skyscraper-fall story that does not meet the ten-story minimum is that of Vangelis Kapatos who was saved from death by a well-placed garbage pile. See Uncollected Garbage Pile Saves the Day.

How Far Did McGarry Fall? A Fair Distance
September 2021: One of the lesser-known Free Fallers is Thomas 'Paddy' McGarry. In January of 1944 Flight Lieutenant McGarry was a bomb aimer on a 35 Squadron Halifax bomber on a mission to Germany. About halfway between Hamburg and Magdeburg the bomber was attacked by night fighters and set on fire. The bailout order was given when the aircraft was at about 13,000 feet. McGarry jumped and pulled his ripcord, but nothing happened. He fell into a wooded area where his fall was broken by the branches of fir trees. He fell on Monday night and did not awaken until Wednesday morning. His survival was aided by unseasonably warm temperatures. After days in the woods McGarry was able to crawl a mile or so to a road where he found help. It was Sunday before he was discovered.

In 1999 the Imperial War Museums recorded McGarry's oral history. It tells his remarkable story over four reels and approximately 100 minutes of a question-and-answer session with an interviewer. The core of McGarry's long-fall survival story is told at the end of Reel 2 and the beginning of Reel 3.

At the very end of Reel 4 (starting at 13:40 or so), McGarry is asked: "Why do you think your injuries were so bad when you landed in Germany in 1944?"

McGarry's response:
"Well, that's quite simple. My parachute just didn't open. It didn't work. Fortunately, I chose to enter Germany in the middle of a forest. I came through a tree, and of course as I hit various parts of the tree I broke bits of my body. So that really is the reason for it. I don't know why the thing didn't open. I had a good look at it afterwards when I was on the ground. There were some indications on the thing that some damage had been caused to the apparatus or the means of restraining the parachute so that when I pulled the ripcord these interfered with the operation of the canopy, and it didn't open. But that was it."

The interviewer then asked: "How far did you fall?"

McGarry replied:
"I reckon that probably at the time that I left the aircraft we were at 12,000 or 13,000 feet. Something like that. A fair distance."

An Unlucky Skydiver's Story
September 2021: On July 21, 2001, on his fourth and last jump of the day, Dirk Sudhoff exited the airplane at around 12,000 feet. After falling around 9,000 feet, he attempted to pull his main parachute, but it would not open. He successfully released the main parachute and pulled the reserve, but it fouled due to unknown circumstances. He could not control it and was spinning underneath the reserve at a much faster rate than normal.

Despite this unlucky set of circumstances, a few factors worked in his favor. First, he landed in a grassy field, narrowly missing a street and some train tracks. Second, a U.S. Navy Seal who was at the jump zone for a non-military jump saw Sudhoff land and provided life-saving first aid on the scene. Sudhoff was hospitalized for about 3 months, recovering from no less than five life-threatening injuries.

In the aftermath, Sudhoff was never able to identify the Navy Seal to thank him, but he is convinced that the Seal's actions saved his life. Sudhoff says that he is '99% recovered' with only a few lingering issues. He has not jumped since, though he says sometimes he misses it.

This incident occurred in Leutkirch in the south of Germany.

A Graphic Novel about Long-Fall Survival
July 2021: The latest project of author Jim Hamilton (the publisher at Green Harbor Publications) is a graphic novel on long-fall survival. You can check out some of the work in progress below and also here.
Sole Survivors on the Mack Maloney Podcast
June 2021: Long-fall expert and author Jim Hamilton was interviewed recently about sole survivors of aircraft disasters for Mack Maloney's Military X-Files podcast. (Note: The sole survivor segment starts at 13:30 minutes in and runs for about 40 minutes.) As it turns out, many long-fall survivors are also sole survivors.

Wikipedia has dedicated an entry to sole survivors of aviation accidents and incidents. They define sole survivor as "a person who survived an air accident in which all other aircraft occupants died as a direct consequence of the accident." Wikipedia does not include those who survived initially but died later due to injuries from the accident. As of recently, the Wikipedia list included 67 incidents starting in 1936, with one as recent as September 2020. The youngest of these sole survivors was 14 months old at the time of the accident. The oldest was 52. The Peruvian airline LANSA has the odd honor of being responsible for three sole survivors, one of whom was Wreckage Rider Juliane Koepcke. A number of other long-fall survivors appear on this list including Erika Delgado, Melissa Kelly, Larisa Savitskaya, and Vesna Vulovic. The Wikipedia list (understandably) overlooks a number of wartime incidents (mostly from World War II) in which a single member of a bomber crew survived. This includes Harry Denison, Merle Hasenfratz, Alfred Muhler, James Raley, and Mark Schneider.

A number of these stories have some bizarre quirk. Martin Farkas' survival of a January 2006 crash was ensured by the fact that he was in the aircraft's lavatory when the plane crashed. Another sole survivor incident occurred in 2010 in the Republic of Congo. This crash was caused by a passenger who brought a live crocodile onto the aircraft. The croc escaped as the plane was approaching the airport and the resulting panic caused the passengers to run toward the cockpit, throwing the aircraft off balance and resulting in the crash.

A 2013 movie called Sole Survivor includes the stories of four such people: Bahia Bakari, Cecilia Cichan, George Lamson, and Jim Polehinke.

Catch a Falling Child
March 2021: News out of Hanoi, Vietnam reached us last week of an heroic act by a delivery driver who saw a toddler in distress and ran to catch the child as it fell twelve stories after climbing over a balcony railing. The driver, Nguyen Ngoc Manh, is shown in a blurry security video standing on the slanted metal roof of a utility shed. He lunges forward to catch the child, the two of them leaving a dent in the shed's roof. The child (the first news reports did not provide a name or gender) survived with serious but survivable injuries (a dislocated or broken hip). Manh's arm was sprained but he was otherwise unhurt. Another video, taken from an adjacent building, shows the child climbing over the railing prior to falling. Here's a YouTube video with both clips.

This story reminds us of a 2011 incident that occurred in China. To celebrate that miraculous survival story we wrote a pair of haiku. This time, we've written a pair of haiku and a limerick:

Small children lack fear
But it's something their parents
Have in abundance

Catching a youngster
Who otherwise would have died
Makes you a hero

A rambunctious small girl or a boy
Climbed off a high ledge in Hanoi
- A delivery driver
- Made the child a survivor
A tragedy turned into joy

Congratulations, Nguyen Ngoc Manh! You may have noticed that some of the news reports refer to you as the 'Hero of Hanoi' and 'Super Manh.' The other hero in this scenario is the woman who spotted the child and called repeatedly for help. Very nice work by the both of you!

Be Sure to Enjoy the View
February 2021: Ngak'chang Rinpoche, practitioner of the Vajrayana Buddhist practice, has written:

"If you were to fall to your death from a very great height - it would be a shame not to enjoy the view as you fell, or to fail to appreciate the wind in your hair and the warmth of the sun on your face. To experience the raw voltage of being alive requires that we learn to lick honey from the razor's edge."

This is an admirable thought, yet one that would be hard to put into practice without risking death. The closest we've seen to anything like this is the experience of Free Faller Nicholas Alkemade, who after falling parachute-less from a burning bomber and surviving the 18,000-foot descent, noted that it had been "a pleasant experience."

Well, compared to being burned alive, maybe so, but your outlook on the experience is significantly enhanced if you survive.

The Man Who Jumped Off Clouds
December 2020: Clyde Peters, a 7th Day Adventist missionary, is the subject of Wellesley Muir's 2000 book, The Man Who Jumped Off Clouds: Adventures of a Jungle Pilot. We came across this book because of Peters' connection to Wreckage Rider Juliane Koepcke. In late December of 1974 when LANSA flight 508 crashed in the Peruvian rainforest, Peters was serving locally as a missionary. After Juliane's amazing survival of the air disaster and her long trek to safety, Peters offered to parachute to the crash site to see if there were any other survivors. This he did, but his plans went awry almost immediately. The chain saw and other supplies he brought with him were lost as he jumped, eliminating the possibility that he could clear a landing spot for a helicopter. His search for the crash site was also for nought. He found two of the aircraft's engines, but no signs of survivors. He followed the same route to safety that Juliane had and later returned to the crash site with others to search for and recover the bodies of victims. There he found the body of fourteen-year-old Nathan Lyons, one of the ninety-one people who died in the crash (or shortly thereafter).

Muir's book about Peters sheds little light on one of the biggest mysteries surrounding the crash of LANSA flight 508. Did others survive the crash? Some sources note that as many as fourteen individuals may have survived. Juliane looked for survivors, including her mother who was seated right next to her before the aircraft came apart. By the time Juliane reached earth, however, her mother was nowhere to be found and she never heard or located any other survivors. If anyone has access to crash records or other documents that would provide an answer to this questions, please write.

Statista's 'No Parachute' Graphic
November 2020: Not long ago, data provider Statista (statista.com) created this graphic (see below) entitled "No Parachute: The Highest Falls People Survived." It looks a bit like the results table from an Olympic competition (nice touch adding the flags of each survivor's nation). Although the names and altitudes are correct, the 'No Parachute' title is misleading since half of the people listed here (Chisov, Grylls, McKenzie, Boole) had parachutes (but they either failed or didn't open). In addition, the list is a mix of true Free Fallers (Chisov, Magee, and Alkemade) plus Wreckage Riders (Vulovic and Koepcke) and Unlucky Skydivers (Bear Grylls, McKenzie, and Boole). Ranking Juliane Koepcke's experience seventh does not seem particularly fair given that after surviving a long fall into the Amazon rain forest she had to walk for days to find help. Altitude alone is not a good measure of amazingness. (Check out the Free Fall Research Amazingness Scale for more.) And finally, there are lots of Wreckage Riders (akin to Vulovic and Koepcke) who fell from higher than 20K feet but are not listed in this graphic. See the Wreckage Rider page for details.


The Flying Greek: Col. Steve Pisanos
October 2020: On pages 135-139 of his book "The Flying Greek," Col. Steve Pisanos describes a long-fall survival incident involving Col. Chesley Peterson. In April of 1943, Peterson was flying a P-47 Thunderbolt on a fighter sweep over Belgium and France. He had just shot down a German FW-190 and was returning to his base when his engine seized up and he lost power. He glided over the English Channel as far as he could and when he was at about 600 feet he released the canopy, unbuckled himself, and rolled the aircraft over so that he would fall away from the cockpit. He pulled the ripcord once he had cleared the aircraft, but his parachute did not open fully by the time he hit the water. It did, however, act as a float and before long he had inflated his dinghy and climbed into it. He was rescued a couple of hours later by a Supermarine Walrus flying boat.

Col. Pisanos had his own close call on March 5, 1944 when his P-51 Mustang experienced engine trouble over northern France. Initially planning to bail out, he ended up staying with the plane after a tangled cord prevented him from jumping. He was kneeling on the wing of the aircraft when it came to earth. Pisanos suffered minor injuries and was able to elude German soldiers who had spotted the crashed P-51. With the help of the French underground Pisanos evaded capture and returned to England after the fall of Paris.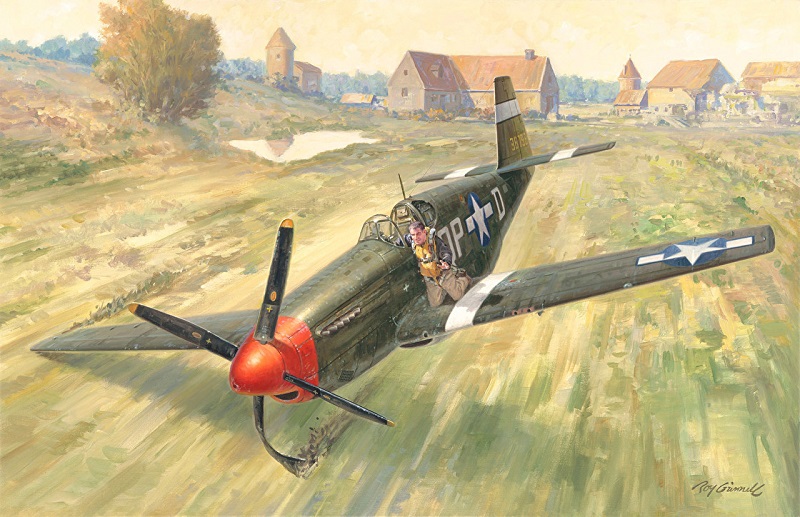 Pisanos' book is highly recommended and can be found in many libraries or through Potomac Books, its publisher. A 20" by 24" print by artist Roy Grinnell of Pisanos kneeling on the wing of his Mustang as it crashed is available at The Flying Greek Website.

Youth, Memory, Risk, and Change
September 2020: More than 100 questions have been submitted to the Free Fall Research Page over the years. Of these, a few have been the starting point for lengthier discussions, some of which have turned philosophical in nature. Such is the case with a question submitted years ago by Mary Dawson Hall in which she asked how fast she was going when she jumped from Kakabeka Falls in Ontario, Canada in the 1970s. In answering her question, we cast a little doubt on the exact spot that she might have jumped from, suggesting instead that perhaps there was a jumping point a little bit downstream where a safer leap might have been accomplished.

Mary doesn't think so. She is sure she jumped from the falls, and even drew a diagram with her recollections. To see an extended discussion, check out her original question and the follow-up discussion on the Questions page. The topic is a rich one, with parts related to youth and risky things we might have done then, but there is also the question of the accuracy of memory. On top of that, geography can certainly change over time, and perhaps in this case it has changed. If you live near Kakabeka Falls or have recollections of what it was like to grow up there in the 1970s, we would love to hear from you. Send us an e-mail.

Miracles Still Happen: A 1974 Film on the Juliane Koepcke Story
February 2020: For many years it was very difficult to locate a copy of the 1974 film that was made about Juliane Koepcke's amazing survival story. The film, which was released in the United States under the title Miracles Still Happen, is now available on YouTube.Therefore it is timely to provide a little bit of background on the film, and also to include some of Juliane's thoughts about the movie.

At the very beginning of the film, the director, Giuseppe Maria Scotese, notes that outside of Juliane and her parents, the actors are local people in and around the community where Juliane was rescued. For the most part, Scotese adheres to the main points of the story. Many details are presented quite accurately, such as the mid-air break-up of her flight, her descent, and her 11-day trek to safety, while others, such as the imagined friendship between Juliane and a young monkey, are invented and distracting. Equally distracting are the jarring music and the heavy-handed editing, particularly the habit of alternating quickly between two shots, such as when the filmmaker alternates between close-ups of Juliane's eyes and an owl's harsh stare. Juliane's encounters with wild animals (caimans, snakes, tree sloths, armadillos, owls, and the aforementioned monkey) occupy a significant amount of the footage. Her internal monolog moves the story forward but is heavy-handed and whiny. Occasional flashbacks show Juliane with her parents and classmates prior to the accident. These would be more palatable if it were not for the stilted editing. Though generally quite weak, thankfully the movie is not as bad as it could have been.

Miracles Still Happen came out in 1974, only two years after the accident, by which time Juliane was living in Germany. She went to the film's German premiere. Many years later she wrote about her experience of seeing the film:

"The film wasn't a masterpiece. Even though the actress who played my part [Susan Penhaligon] was really dedicated and spared no effort, flung herself into the mud and showed intense engagement in many scenes - for long stretches, the movie is simply boring. The director sought to remain authentic, the many nonprofessional actors did their best, but on the whole the movie wasn't really convincing." (From When I Fell from the Sky: The True Story of One Woman's Miraculous Survival by Juliane Koepcke)

User reviews on the Internet Movie Database web site indicate that the movie was quite memorable for those who remembered seeing it as children in the 1970s. Presented, oddly enough, as a Christmas movie (the accident happened on Christmas Eve), many viewers recall scenes in which Juliane or her rescuers dig squirming maggots out of her wounds. You can imagine that such a depiction would be seared into a child's imagination.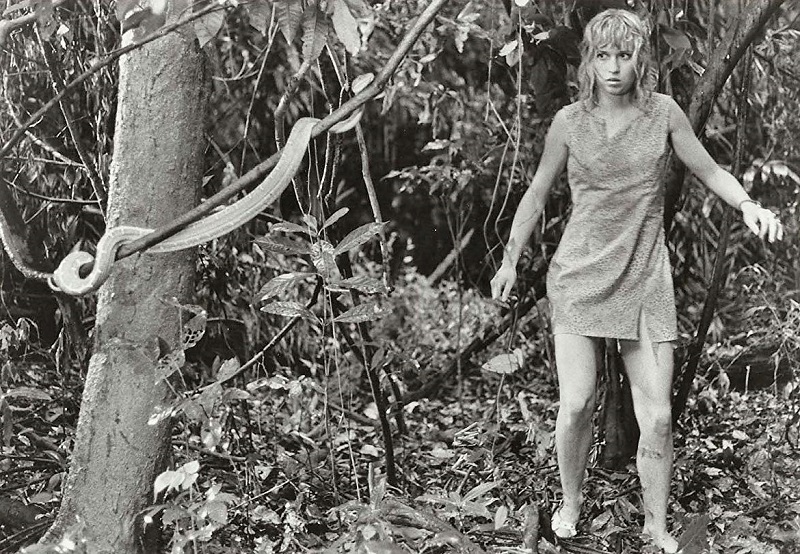 Now that Miracles Still Happen is available for viewing on YouTube, it is certainly worth watching, but don't set your expectations too high. If you are looking for a more faithful depiction of Juliane's story, you are better off watching the Werner Herzog documentary, Wings of Hope (2000), which you can find at www.wernerherzog.com.

Surviving an Unaided Fall over Niagara Falls
July 2019: The recent news that a man survived a long fall (approximately 188 feet) from the Upper Niagara River over Niagara Falls into the Lower Niagara River brings to mind some other incidents when people went over the falls unaided, and yet survived.
July 9, 1960: Seven-year-old Roger Woodward went over Niagara Falls in a life jacket after a boating accident that dropped him, his sister, and a family friend into the waters of the Upper Niagara River. His sister was pulled from the water ahead of the falls but despite vigorous efforts to save Roger, he fell a reported 162 feet into the Lower Niagara River. The family friend, James Honeycutt (whose 12-foot aluminum boat they had been traveling in), also went over the falls. Honeycutt did not survive.
October 20, 2003: Kirk Jones, in an admitted suicide attempt, survived a trip over Niagara Falls with minor injuries (two broken ribs and some bruised vertebrae). He made the trip again in 2017 in an inflated ball with his pet snake, a boa constrictor named Misty. Jones died. It's not clear what happened to Misty.
March 11, 2009: An unnamed Canadian man jumped from the top of Horseshoe Falls, falling 57 meters (187 feet) into the water below where he was found naked, his clothes having been ripped off during the fall. He suffered a severe cut on his forehead but was conscious and unwilling to be rescued. A rescue team was finally able to bring him ashore.
May 21, 2012: An unidentified man jumped over a railing into the river and was swept over the falls in a suspected suicide attempt. He was able to swim to shore where he was rescued. He survived with head and shoulder injuries, a collapsed lung, and other chest injuries.
July 9, 2019 (the 59th anniversary of Woodward's fall): An unnamed man, apparently in a suicide attempt, jumped in the river fell approximately 188 feet over Horseshoe Falls. He survived with non-life-threatening injuries.
All of the falls are described as between 162 and 188 feet.

Your Questions and the Incident Log
January 2019: There hasn't been a whole lot of Free Fall news to report recently, but that doesn't mean there hasn't been activity on the web site. Two areas to keep a tab on are the Questions page and the Incident Log, which are updated frequently. Also, another good way to keep up on long-fall news is to follow our Twitter account: @FreeFallReport

Lost in 2016: Vulovic, Gutowski, and Lyne
December 2016: At least three well-known long-fall survivors died in 2016. One, perhaps the most famous, was Vesna Vulovic, whose death was covered by the New York Times and the Huffington Post (among others). Earlier this year Vulovic's story was questioned by two Prague-based journalists. The two others, less well-known than Vesna, were Zbigniew Gutowski and Henry Lloyd Lyne .

Zbigniew Gutowski, as it turns out, spent time in Stalag Luft III after his capture and helped dig one of the Great Escape tunnels. Gutowski, a Pole, was a Spitfire pilot escorting bombers back from a raid to France when his aircraft was hit by flak and knocked into a spin. He recovered from the spin in time to engage enemy fighters, but his Spitfire was hit again and sent into another spin. Too low to pull out, he bailed out at an altitude he estimated to be 150 feet. Just as his parachute began to stream out of its pack he hit a big pile of beet leaves and bounced to the ground unhurt. Ten yards away was the smoking wreckage of his plane. Gutowski died in Montreal in March at the age of 99.

Henry Lloyd Lyne was an RAF bomb aimer on a 178 Squadron Liberator that was shot down over Warsaw in August of 1944. He was thrown from the aircraft and fell to the ground in a muddy island in the middle of a lake. He was badly burned but survived. He was the only survivor of the crew. Lyne died in Cornwall in March at the age of 93.

Thanks to Paul McMillan for pointing us toward the Gutowski and Lyne obituaries!

Defenestration
November 2016: Throwing someone (or something) out of a window is called 'defenestration.' A famous example of this occurred in 1618 in Prague when three men were thrown out of a window by an angry crowd. (See Defenestrations of Prague.) All of them survived the fall to the ground, a distance of around 70 feet. The story goes that they fell into a manure pile and survived (either that or they were caught by angels). One of the three men, Philip Fabricius was later made a Baron and was given the name Hohenfall ('high fall' in German). For more on this story see A Minor History Of / Falling from Great Heights by Joshua Foer and The Window that Started a War by Olivia James.


Lady Fortune
November 2016: In the cathedral in Siena, Italy, the 'Hill of Knowledge' allegory is depicted in marble inlay in the floor (see below). The basic idea is that you have to slog up the hill but when you get to the top you will be so happy (and achieve salvation) that you will be glad to toss all of your worldly possessions out of the clouds of heaven and let them fall back to earth. The cautionary part of this tale stands to the lower right. Lady Fortune is naked and holding a cornucopia in her right hand while a sail billows above her. Her left foot is poised on a ship with a broken mast and the other is resting on a globe. This (combined with the billowed sail) is supposed to represent her tenuous position in the world, but it looks like she's having fun nonetheless, and on top of that she's about to have a bunch of gold and jewels rain down upon her. If this marble inlay were more recent (rather than being from 500 or so years old) you might think she was parasailing or even skydiving (which Rick Steves puts forth in his guide to Florence & Tuscany - page 376 of the paperback). As Renaissance artist/Teenage Mutant Ninja Turtle Michelangelo might say: 'Cowabunga, dude!'


A Visit to Another Free Fall Site
August 2016: Last week I got the chance to visit the site of George Bushor's long fall survival (September 1909). For some pictures of this and other free fall sites, see the Free Fall Research Page Travel Destinations page.


Luke Aikins and his 25,000-foot parachute-less jump
July 2016: A Hollywood stuntman and skydiving instructor named Luke Aikins will attempt a parachute-less jump from 25,000 feet. The jump will take place in the desert north of Los Angeles where he will be aiming for a pair of nets suspended from cranes. He plans to land on his back and walk away uninjured. It appears he will jump from a helicopter rather than an airplane, which is important because he must carefully control his starting point if he wishes to land on the nets, which are described as 20 stories high and about a third of the size of a football field. The story has been reported in Reuters and the New York Daily News.


We wish him good luck, but this is an extremely risky stunt. Once he leaves the helicopter he becomes a projectile. The 42-year old husband (and father of a young son) is attempting something vaguely reminiscent of Gary Connery, the crazy wingsuit guy who jumped from a helicopter and landed (without deploying a parachute) on a carefully crafted mountain of cardboard boxes. Connery escaped injury.

For Aikins, making the jump from 25,000 feet certainly complicates hitting the target, but from a speed perspective it should be noted that he will reach his terminal velocity after about 2,000 feet or so of falling. In other words, he won't be falling any faster from 25,000 feet than he would have if he had jumped from 2,000 feet.

The stunt's sponsor, Stride Gum, is calling the event 'Heaven Sent' and promoting it as 'live' but Fox, which is televising it, admits that it will be on a one-hour tape delay. The broadcast will take place on July 30, 2016 at 8 pm Eastern. As if this wasn't enough of a goofy stunt, the jump will be accompanied by an app called 'Heaven Sent, the game.'

Jimmy Smith of Amusement Park Entertainment is the 'architect' of the one-hour televised event and his team, in addition to Aikins, includes Chris Talley ('Aerospace Physiologist') and Michael Gervais ('Performance Psychologist'). The fall itself will take only about two minutes. JMC2, a civil engineering and surveying firm from San Pedro, CA, has been working on this project for the past year.

Aikins comes from a long-line of skydivers. His family owns Skydive Kapowsin near Tacoma, Washington. He notes that he has made more than 18,000 skydives. Here's hoping this won't be his last jump.

Update: It appears that Aikins will be jumping from an airplane rather than a helicopter (a seemingly crazy choice, but maybe a helicopter would have difficulty reaching 25,000 feet). He'll be using a GPS to guide his descent and will also have a helper with him in the air. See Andrew Bisharat's excellent article on the National Geographic web site for additional details.

Update (2): He did it. And it was very impressive. The last five minutes of the show were well worth watching. Can't say as much for the first fifty-five, which were dragged out and punctuated by a theatrical attempt to make viewers believe that the Screen Actors Guild (SAG) was going to require him to wear a parachute. So much for the parachute-less jump. Then, at the last minute, he was allowed to go parachute-less. For the best three minutes and fourteen seconds of the entire show, here's a link to a short YouTube clip.

Vesna Vulovic Record Fall Called into Question
April 2016: A 2009 article in the Guardian questions whether Vesna Vulovic's fall was as far as the 33,000 feet that achieved for her a Guinness World Record for the longest fall. The Guardian report cites the work of two Prague-based journalists who claim that the plane was not blown apart at high altitude by a terrorist bomb, but instead was shot down by a Czechoslovakian air force jet fighter while attempting an emergency landing. This report puts the height of Vulovic's fall at 800 meters (about 2,600 feet). The same news resurfaced in a 2012 report in The Independent.

Being the sole survivor of a long fall in wreckage is impressive whether the fall was from 2,600 or 33,000 feet, but if Guinness is looking for a new champion, then Erwin Koszyczarek would be a good choice. In February of 1945, two B-17 bombers collided over Graz, Austria. The tail gunner of one of the B-17s, S/Sgt. Erwin Koszyczarek, fell 28,000 feet in the severed tail. He survived and was taken prisoner.

Surviving a long fall inside wreckage is impressive, but not nearly as impressive as a free fall unaided by a protective cushion of airplane parts. The longest Free Faller is a Russian airman named I.M. Chisov who fell nearly 22,000 feet after his Ilyushin IL-4 bomber was attacked by German fighters in January of 1942. Lt. Chisov hit the edge of a snow-covered ravine and rolled to the bottom. He was badly hurt but survived.

Below are links to the Guardian and Independent articles:
Is It a Miracle?
February 2016: Jim Hamilton, author of the 'Long-Fall Survival Report,' will be joining Reverend Catherine Cullen in the pulpit for the worship service on Sunday February 21st at First Parish Church Unitarian Universalist in Duxbury, Massachusetts. The topic: "Is It a Miracle?" Jim will describe a few miraculous long-fall survival stories and will ponder the meaning of miracles.

April 2016 update: Here's the link to a recording of the Miracles worship service.

My Fat Saved My Life
December 2015: Big news. Photos that Green Harbor Publications provided to Mike Mathis Productions will appear in a soon-to-air program called 'My Fat Saved My Life.' The producers say that 'My Fat Saved My Life' tells 'four mind-blowing stories of people who survived certain death because of their fat.' The photos were taken at the Minneapolis Hyatt Regency and help to tell the amazing story of Joshua Hanson who survived a 16-story fall in January of 2007. 'My Fat Saved My Life' is a PG-rated, 60-minute long program that will air on TLC on Thursday, December 30th at 8 pm Eastern.

Man survives 17-story fall in Chile
August 2015: 23-year-old Sebastian Reyes fell off of an apartment balcony in the Chilean city of Rancagua on June 20th. Reports say he fell 17-stories (approximately 40 meters) after toppling over a rail following a late-night celebration of a Copa America victory. Video footage showed him hitting a metal roof in a parking area, and then crashing onto the front of a car before tumbling onto a sidewalk. Reyes fractured his thigh and pelvis but survived. Reyes credits God with saving him (pointing to his tattoo, which says 'God, don't abandon me') but the video clearly shows that had he fallen a foot or so to either side, he would certainly have died. On one side, he narrowly missed the metal support of the roof, which would have split him in two. On the other side, he would have fallen directly onto the pavement, missing the roof and the car. The double effect of hitting the edge of the roof (which collapsed immediately) and landing on the car helped to slow his fall and limit his injuries. A special thank you to Andy Gordon for informing us about this story!

Window Washer Survives Long Fall onto a Moving Car
November 2014: Though it's not clear exactly how far he fell, a window washer working on an 11-story building tumbled a great distance and landed on a Toyota Camry that had just come around the corner, crushing its roof but sparing the driver. More details (such as the victim's name) will likely emerge in the coming days. He was conscious in the ambulance leaving the scene and was taken to surgery with broken bones and possible internal injuries. This story has some similarity to the January 2011 fall in Argentina in which a suicidal woman fell 23 stories onto a taxi and survived.

Here are some relevant links: December 2014 update: The window washer has been identified. He is Pedro Perez of San Leandro, CA (his age is listed as 50 and 58 in different news reports). As of early December Perez remained in critical condition at San Francisco General Hospital, though he had improved somewhat (including regaining the ability to breathe on his own). His most serious injuries according to his daughter were a fractured pelvis, a broken arm, and internal bleeding. He appears to have avoided spinal cord injuries yet the latest report indicates he had some 'brain trauma.' He is able to speak but will require a long convalescence. His family is asking for help with expenses. Here's the link if you'd like to donate. Note: This incident occurred on November 21st at 400 Montgomery Street in San Francisco's Financial District. Reports estimate that he fell 11 stories / 130 feet.

Double Baby Fall
July 2014: Perhaps you've heard the story of a baby who survived a fall from a fourth story window by landing on a window washer named Joseph Figlock. The story continues that a year later the same baby fell again, and once more landed on poor Mr. Figlock. Both of them survived both incidents. A 1937 Time magazine article appears to be the original source. This story, even if true, fails to meet the 10-story standard we have set for long-survival stories. See the excerpt below (Tips for Would-Be Authors) for stories of three kids who survived really long falls.

The Moon Door in the Game of Thrones
May 2014: We were contacted recently by Lily Rothman of Time about an article she was writing on the Game of Thrones. The story features something called a Moon Door, which is basically a trap door through which the unlucky soul falls thousands of feet to their death on a rocky beach. Rothman wanted to know if the falling body would break into pieces. We told her we didn't think so unless it was due to sharp pointy rocks on the beach. Rothman's article was published as The Physics of the Game of Thrones Moon Door and is probably the reason why the Free Fall Research page received two new questions and tip about a free fall story in the days that followed. Wingsuit Water Landing
April 2014: There's a video on YouTube purporting to show a guy in a wingsuit survive a water landing on Lake Garda in Italy. If you were wondering whether it was faked, you were right. They admit it was faked. Unless you are the one crazy wingsuit guy who landed on a bunch of cardboard boxes, then you need a parachute to survive a wingsuit jump. (Note: Gary Connery is the crazy wingsuit cardboard landing guy. He jumped from a helicopter, presumably so that he would know exactly how high he jumped from and be lined up perfectly with his landing location, but what an incredibly risky move. He could easily have died instead.)

Falling into Water
March 2014: Many of the questions received by the Free Fall Research page have something to do with falling into water. There is definitely a fascination with the topic. Artists also frequently address falling. Jeffu Warmouth, who has a show now at the Fitchburg Art Museum created a video called 'Fall' which, in a dream-like fashion, addresses the topic of falling into water. Short and sweet and weird, the video shows the same guy (clothed differently) falling multiple times past fluffy white clouds where he lands easily in the water and begins swimming. After a while, there are half a dozen of him, swimming the breaststroke like so many goldfish in a tank. You can see this 30-second video on its own, or also as it was shown on a video marquee in front of the Westin Hotel near the convention center in Boston.

Miracles
February 2014: Whenever someone survives a long fall, the first word that comes to mind is "miracle." Is it a miracle that they survived? We've gotten this question before, but to reiterate: No, these aren't miracles. God's hand did not save these people (while letting others in similar situations die). I think Mark Twain's perspective on the topic is worth quoting here: "The difference between a Miracle and a Fact is exactly the difference between a mermaid and a seal." Well said, Mr. Twain.

Note: Twain's quote comes from the "Official Report to the I.I.A.S." (1909). By the way, the I.I.A.S. is the Indianapolis Institute of Applied Science.

Two New Long-Fall Survival Incidents
January 2014: Two new incidents have been added to the Incident Log: Makenzie Wethington (see below) and Tim Stilwell. Two news outlets, Popular Mechanics and NBCNews.com, contacted the Free Fall Research page after Makenzie's fall. Her story made headlines across the country. Stilwell's fall, perhaps even more spectacular, was less publicized in the United States, but is probably even more amazing as he fell with no parachute from a 15th-story balcony onto the roof of an adjacent building below. It was reported that he was drunk. (Ya think?) As with Liam Dunne and Erin Langworthy, there is some irony in the amazing long-fall survival story of a man named 'still well.'

Note: Just updated this to fix the spelling of Makenzie Wethington's name (there is no 'c' in Makenzie). Also, anyone following the social media uproar around this should search on the hashtag #makenziestrong on Twitter. One other thing, less than a week after her fall there is a CGI video of the incident. It is actually fairly amusing, though it makes it look as if the ripcord was the issue (it wasn't, it was a static line jump) and that the parachute never came out (it did, and must have inflated to some extent - it may never be entirely clear how much). And last but not least a friend tweeted that Makenzie wants to meet Khloe Kardashian, but so far it doesn't appear that Ms. Kardashian has been in touch.

Sixteen-Year-Old Texan Survives Parachute Malfunction and Wants to Meet Khloe Kardashian
January 2014: Makenzie Wethington is recovering from injuries suffered after a long fall under a malfunctioning parachute. No video or photographic evidence exists (that we know of) but it is clear that her parachute came out, and yet for some reason she spun out of control and crashed into the ground, suffering multiple injuries, including a broken vertebrae, shattered pelvis, a lacerated liver and kidney, and a broken tooth. Despite these injuries she avoided paralysis and her doctors believe she will make a complete recovery. Makenzie, whose wish was to parachute once she turned 16, had that wish granted by her father, who initially hoped she would make a tandem jump with an instructor. That service was not offered at Pegasus Air Sports Center in Chickasha, Oklahoma. She was so excited about jumping that her father agreed to let her jump solo. Both took the training class and jumped. Makenzie's father's jump was uneventful.

One unanswered question is: "What did she fall on?" Presumably her chute was open enough to slow her down a fair amount, but did she come down on pavement, grass, snow, an incline? That would have a lot to do with her survival.

A similar incident that readers may recall is Shayna Richardson. (See this summary of her fall). Her story was widely reported and she was also on her first solo jump, though she had done multiple tandem jumps before. Makenzie's fall is similar to other skydiving accidents in which the person fell a long distance under a malfunctioning parachute, and yet survived. One contributor to Makenzie's survival is that she probably landed on a slope, or some grass, or some snow rather than a concrete runway. Also, one benefit of having a failed parachute above you is that it orients you in a feet-down position. It's why her hips took such a beating, but it's also why she didn't come down directly on her head, which would certainly have been fatal. We wish her all the best for her recovery.

On Twitter (follow us at @FreeFallReport), it appears that Makenzie's desire (now that she's fulfilled her dream of skydiving) is to meet Khloe Kardashian, which raises another interesting question: If you survived a long fall with a failed parachute, which celebrity would you want to visit you in the hospital?

People Ask Me about Falling
December 2013: We're close to a significant milestone: 100 questions and answers on the Free Fall Research Questions page.

The War in the Air
December 2013: The poet Howard Nemerov, who served as a pilot during World War II, wrote a poem called "The War in the Air" that is included in a fine poetry collection called "Good Poems for Hard Times".

The War in the Air

For a saving grace, we didn't see our dead,
Who rarely bothered coming home to die
But simply stayed away out there
In the clean war, the war in the air.

Seldom the ghosts came back bearing their tales
Of hitting the earth, the incompressible sea,
But stayed up there in the relative wind,
Shades fading in the mind.

Who had no graves but only epitaphs
Where never so many spoke for never so few:
Per ardua, said the partisans of Mars,
Per aspera, to the stars.

That was the good war, the war we won
As if there were no death, for goodness' sake,
With the help of the losers we left out there
In the air, in the empty air.

When the Parachute Failed, A True Sacrifice
November 2013: There have been a few stories on these pages of tandem jumps gone wrong. WBUR, one of the public radio stations in Boston, did a 'Kind World' story about one of them, in which the instructor did all he could to save his student. That instructor, David Hartsock, saved his student, Shirley Dygert, but it cost him dearly. Listen.

Birdmen, Batmen, and Sky Flyers
September 2013: The other day I came across an interesting book by Michael Abrams called 'Birdmen, Batmen, and Sky Flyers: Wingsuits and the Pioneers Who Flew in Them, Fell in Them, and Perfected Them.' The book is fascinating, though I take exception to the subtitle. Instead of saying 'Perfected Them' it should say 'Died in Them.' The death rate of these adventurers is astounding. The book presents a riveting historical journey of a group of daredevils who wanted to fly without an airplane. Published in 2006, "Birdmen, Batmen, and Sky Flyers" appeared ahead of Gary Connery's 2012 wingsuit landing and the continued tragedy of ongoing wingsuit deaths. Abrams captures the thrill and danger of wingsuit flying very nicely. Also recommended is the blog Abrams wrote in the years leading up to the book's release. It's called The Icarus Report.

In the wake of two recent wingsuit deaths, National Public Radio ran a story about wingsuits called 'Wingsuit Flying: Incredible Thrill, But 'No Second Chance'.' If you prefer to read it, here's the transcript. NPR quotes a University of Colorado physician, Dr. Omer Mei-Dan and cites the August 2013 wingsuit deaths of Mark Sutton and Mario Richard in separate incidents. Dr. Mei-Dan is a skydiver, wingsuit flyer, and a friend of Jeb Corliss. The NPR story notes that Mei-Dan has modified hisjumping regime since he had kids. He keeps jumping, but doesn't push the envelope like Corliss. Makes sense to me. I wish he could convince Corliss to do the same.

Tandem Skydiving Accident Survival Rate: Sometimes It's 50%
September 2013: A 56-year-old skydiving instructor named James Horak Jr. died in August after an equipment failure sent him and his student into a swamp near the Lumberton, Mississippi airport. The student survived with serious injuries. This incident is one of several in which one participant in a tandem jump survives while the other does not. In some cases it appears that the instructor tried to protect the student at the risk of his own life. One notable example occurred in June of 1997 in Umatilla, Florida. An instructor named Michael Costello died after the main parachute failed and the reserve tangled with the main. The student, Gareth Griffith, survived. In another case in January of 2009, the parachute performed as expected, but the instructor died anyway. Student Daniel Pharr noticed something wrong as they came down together under the open parachute. The instructor, George Steele, did not respond after an initial comment. When they reached the ground, Pharr performed CPR on the unconscious Steele, who it appears died of a heart attack.

The Free Fall Research Page Falling Tips for Authors
July 2013: E-mails arrive on a regular basis from authors asking about different falling scenarios. Typically it's because they have worked their protagonist into a corner with the villains approaching. The 'corner' is usually a cliff or a the roof of a building or the door of an airplane. For the benefit of these folks I have updated an entry from about a few months ago regarding 'Falling Tips for Authors.' Enjoy! And please remember to send me a royalty check when your screenplay gets accepted!

September 2013 update: This Sunday Doonesbury cartoon is a perfect example of the kind of situation these authors put themselves in shortly before they send an e-mail to the Free Fall Research page.

Internet Etiquette - War History Online Fails the Test
July 2013: I found out this week that a web site called 'War History Online' had made two articles using text stripped verbatim from the Free Fall Research Page. They never contacted me to ask for permission. Apparently they thought it was enough to put a small link to the site at the end of each article. They have not responded to e-mails and tweets asking them to remove the material. The only bright side to this rude behavior is that it has raised the visibility of my site such that I've received a couple of interesting long-fall survival e-mails this week. Still, I'm pissed that a web site whose sole apparent purpose is to gain revenue from cheesy advertising is benefiting from something I wrote.

Planned Plunges in a Kayak
July 2013: Andrew Bell, who wrote a while back in regard to aircraft/ejection has some interesting details to add about the Palouse Falls kayak story below. He writes: 'In my younger days I was first alternate for the US Junior National Team for Whitewater Slalom Kayaking, and have run a number of waterfalls, none approaching 180 feet by any means, but some useful 'facts' (I'm not sure if it's utterly factual) [follow] 'we were always warned that it was the angle [of] entry which determined the results of a vertical drop in a kayak. Over 30 feet, if you land flat bottomed you are at serious risk for vertebral compression fractures. Other than that, should you point (aka the bow or stern) in, after the fall the risks are significantly smaller. On the other hand there are no colloquial suggestions about falls over 30 feet other than something akin to 'don't screw up.' I will say that it is not unusual for a kayaker dropping [over] a falls of serious height to increase the weight in the bow of the kayak in order to assure that one does not land flat bottomed.' Drew went on to note that the world record holder at the moment is none other than Tyler Bradt, the same kayaker who went over Palouse Falls. I feel about Tyler the same way I feel about Jeb Corliss (see 'Jeb Corliss Nearly Kills Himself') and David Blaine ('Don't Try This at Home''), which is to say that I hope he stops doing such foolhardy and dangerous stunts before he kills himself trying something stupid.

Two Inspirational Long-Fall Recovery Stories
May 2013: The sad side of many long-fall stories is that the survivors face life-long battles with their injuries. Two articles have recently come to our attention and both provide an inspirational look at the grit and determination required to overcome debilitating physical injuries:
Iron Man 3 Falling Scene
May 2013: For the second time, the Free Fall Research page has been contacted by a Popular Mechanics writer with questions about falling. This time it relates to a dramatic rescue scene in Iron Man 3 in which Tony Stark attempts to save thirteen people who have fallen out of Air Force One after it explodes. They asked some of the basic questions that we hear frequently here, such as:
How long would it take to fall 35,000 feet? (about three and a half minutes)
How hard a surface is water to fall on? (pretty hard)
Wouldn't you pass out at 35,000 feet for lack of oxygen? (yup)
The end result is a very nice fact versus fiction piece by Steve Daly.

You Saw the Video, Now Watch the Commercial
November 2012: Erin Langworthy survived a long fall after her bungee cord broke. Now she's promoting travel insurance. See the video.

Felix Baumgartner Breaks Joe Kittinger's Record
October 2012: On October 14th, Felix Baumgartner did what he promised. With Joe Kittinger watching, Baumgartner broke Joe's free fall record. See the Questions page for a related item. Also, below are the haiku poems I tweeted during the run-up to his historic jump.

Supersonic speed
One mile every five seconds
Felix falls to earth

Felix Baumgartner
Will land somewhere near Roswell
Depending on winds

Seems right that it takes
An army of space legends
To break Joe's record

Too windy for launch!
Oh my God the record will
Have to wait one day

Ten hours until
Wind and weather permitting
Felix takes on Joe

Baumgartner goes up
Into the wild blue yonder
You can watch it live

The mission's on hold
Won't happen until later
No live jump for now

So what's up today?
Are the winds any better?
Please provide updates

To the edge of space?
Winds not cooperating
Try again Sunday

Man in a balloon
Pushing mankind's boundaries
Out a bit further

You should be afraid
Mother Earth has a hard side
Hope she smiles on you

It's just one small step
And a hell of a long fall
Can I change my mind?

Felix Baumgartner
He said he would, and he did
Congratulations!

The B17-France.org Web Site
September 2012: An e-mail from Alain Charles arrived this week with a link to an impressive web site with information about downed World War II aircraft. The site is B17-France.org and includes lots of detail on different types of aircraft (not just B-17s) that went down near St. Nazaire, France. An extra special aspect of the site is the level of detail provided. If you look at the research section there are military documents and scans of relevant information about each incident.

Alain, the president of the American Memorial Association of St. Nazaire, has been in touch in the past because famous Free Faller Alan Magee was on a 303rd Bomb Group B-17 that went down near St. Nazaire, France on January 3, 1943. To see this particular entry, go to page 32 in the research section. Be sure to click the Records/Archives button to see the additional documents. These include some that cast some doubt on whether Magee really fell without a parachute. Obviously, it's hard to imagine how anyone could survive such a fall (though it's known now that quite a few did) and it's true that much of what we know of Magee's fall comes from him rather than other witnesses, but it is also true that Magee's many injuries speak to a horrific collision with the roof of the St. Nazaire train station.

Despite some lingering questions that may never be answered, Alan Magee's fall as he described it is possible in light of what has been learned about other similar incidents. It would, of course, be nice to know if anyone saw him falling (if he'd been coming down under an inflated parachute in the middle of St. Nazaire, it's likely someone would have seen and noted that) and it is still unclear whether he hit the station's skylight and landed on the roof (or fell through the skylight into the station). Someday maybe these questions will be answered.

Say It Ain't So Joe!
September 2012: On October 8 in Roswell, New Mexico, Felix Baumgartner will attempt to break Joe Kittinger's record. This comes a little later than expected due to some damage done to his custom-built, helium-balloon-lifted, space capsule during the July 25th test run.

As those of you who are following the Free Fall Research page on Twitter (@FreeFallReport) will have seen two haiku poems written in response to tweets by Red Bull (@RedBullStratos), Baumgartner's sponsor. Here they are:

Supersonic speed
One mile every five seconds
Felix falls to earth

Felix Baumgartner
Will land somewhere near Roswell
Depending on winds

The folks at Red Bull 'favorited' the second one...

Another Day, Another Faller
September 2012: In mid-August an experienced skydiver named Liam Dunne survived a long fall under a failed parachute and a tardily deployed reserve. The last-minute opening of the reserve and a soft landing spot contributed to his survival, though he broke his back. Now in a spinal rehabilitation facility in New Zealand, doctors say that they expect that he will be able to walk again but it will take months of rehabilitation following surgery to insert pins in his spine. The incident occurred in Moteuko, New Zealand. For additional details see this Telegraph article. One irony of this is Dunne's name. Take the first letter off his first name and the last two off his last, and you are left with I AM DUN, which he surely was thinking as he tried to deploy his reserve.

Joe Kittinger's Record Still Stands (for a while anyway)
July 2012: Felix Baumgartner completed a free fall and parachute jump on July 25th that sets the stage for his attempt at breaking Joe Kittinger's record. Baumgartner jumped from about 96,000 feet and was in free fall for nearly four minutes. Baumgartner's next jump will come in about a month. For more on this, see our earlier post.

The Free Fall Haiku Challenge
July 2012: The Free Fall Research Page has a new feature: the Free Fall Haiku Challenge. This test of your knowledge of well-known incidents challenges you to match each haiku with the corresponding long fall survivor. Here is an example:

By lightning destroyed
Her plane fell in the jungle
And then she walked out

A total of ten long-fall personalities are covered in the Free Fall Haiku Challenge (in alphabetical order they are: I.M. Chisov, Joe Herman, Joe Jones, Cliff Judkins, Juliane Koepcke, Alan Magee, Alfred Muhler, Shayna Richardson, Peter Underdown, and Vesna Vulovic.) Want to take the challenge? We've provided it in convenient PDF form for you to print out. (Answers included upside down in small type at the bottom of the page.) Click here.

A Matter of Life and Death
July 2012: We recently got a message from Diane Broadbent Friedman, the author of a book called "A Matter of Life and Death: The Brain Revealed by the Mind of Michael Powell." Her book looks into the neurological underpinnings of the 1946 film called "A Matter of Life and Death" (and sometimes "Stairway to Heaven"), which was written and directed by Michael Powell and Emeric Pressburger. The film, as described briefly in the Fictional Falls section of this web site, stars David Niven as an RAF pilot who has to bail out of his plane without a parachute and survives by some divine error.

Friedman had some questions about Free Faller Nicholas Alkemade, who survived a long fall, and may or may not have been the inspiration for the film. An early analysis of some of the points that were explained in fuller detail in her 2008 book can be found on the web under the title "A Matter of Fried Onions."

Our New Search Tool and the News of the Week
May 2012: I owe much to the followers of the Free Fall Research Page. Here is another example. Regular correspondent Alan Scheckenbach asked why we didn't have a 'search' feature. The answer is that I hadn't thought of it, and on pondering the possibility, I figured it was beyond my HTML coding skills. My colleague at work, Stephanie Pieruccini, told me that it really was pretty easy, and I should just go to the Google page where they had code. A quick web search turned up a great Ask Dave Taylor page that had everything I needed. So thanks to everyone who helped. I hope you like the search tool! (If not, let me know.) P.S. The next step will be the addition of a Free Fall database page with a compilation of all of the stories I've collected. Stay tuned!

The addition of the search tool comes during a very busy news week: 'Freefall Fashion Photographer' Highlighted in this Month's Wired Magazine
May 2012: The May 2012 issue of Wired magazine has a T Mobile advertisement right inside the cover promoting their htc one mobile device. It's recommended by Nick Jojola 'Freefall fashion photographer' (a job title I never realized even existed). The videos are at htc.com (you'll have to poke around a bit to find them - look under the 'Explore' section when you mouse over the htc one phone on the left). Or better yet, try this direct link to the Youtube video.

Some Updates: Fastest Ejection, Lake Elsinore, and Haiku
April 2012: Several items have come our way over the past week: The Influence of Weight on Terminal Velocity
March 2012: For the second time in a couple of months the Free Fall Research Page has received an excellent description related to the math of falling. This time it's from Mathias Svensson, a student of Computer Science at Copenhagen University. We've added a new page dedicated to the influence of weight on terminal velocity. Mathias Svensson's contribution comes not long after we created a page dedicated to acceleration on the moon. The moon acceleration math came to us from Margo Schulter. Our thanks to Mathias and Margot!

Jeb Corliss Nearly Kills Himself
February 2012: Following a January 2012 wingsuit accident that occurred at Table Mountain in South Africa, Jeb Corliss has posted a music video that combines his own helmet camera footage, video from another wingsuiter right behind him, and still photos from a cameraman who stood perilously close to where Corliss hit a rocky ledge. Corliss survived the accident with broken legs after he was able to deploy his parachute despite flipping several times after the collision with the rocks. He is faced with a long recovery but claims he will do it again.

Here are three links to the video (pardon the pop-up ads and e-mail subscription requests): Personally, I don't 'like' this. He's taking risks that could easily have gotten him killed. I wish him the best for a speedy recovery but I hope he stops.

David Carkeet on Carl Zuckmayer
February 2012: The Free Fall Research page's favorite author, David Carkeet, has an article on the German playwright Carl Zuckmayer in the January/February issue of Vermont magazine. The text is not available on-line so go visit your local newsstand now.

Free Fall Research Page Tips for Would-Be Authors
February 2012 (plus multiple updates, see below): This week, after hearing from two authors asking about the feasibility of certain fall-related plot developments, I started to wonder if it was some kind of trend. Are would-be authors combing the Internet for facts to support their plot twists? Anyway, to help future authors, here are some tips: Note: This Sunday Doonesbury cartoon is a perfect example of the kind of situation these authors put themselves in shortly before they send an e-mail to the Free Fall Research page.

Many Are Cold, Few Are Frozen
February 2012: The news broke this week that there was yet another aspirant to Joe Kittinger's free fall record. This time around it's Felix Baumgartner, who as part of a team sponsored by the 'energy' drink Red Bull, will make an attempt in August from around 120,000 feet. Let's hope he is prepared to brave the freezing temperatures at that altitude.

The urge to break Kittinger's record seems to appear on a regular cadence. In the summer of 2008 it was Michel Fournier who tried and failed. You hate to wish failure on someone with a lofty goal yet I can't help but hope that Kittinger's record remains, particularly when the contender is a made-for-TV, corporate-sponsored effort.

Questions about Joe Kittinger and factors surrounding his jump appear regularly on the Questions page. Here are four: Roger Fancher's Close Call with Death and Other Stories
February 2012: There are only a couple of people who I would consider longtime correspondents of the Free Fall Research Page. Roger Fancher is one of them. And so it was of great interest when he sent me an account of his fall under a failed parachute. I have posted a link to this account on the Unlucky Skydivers page and you may find the full piece here.

Other recent updates include: Not Only Did Her Bungee Cord Break; She Fell into Crocodile-Infested Waters
January 2012: On New Year's Eve, 22-year-old Erin Langworthy of Australia was bungee jumping from the Victoria Falls bridge on the border of Zambia and Zimbabwe when the bungee cord broke. She fell into the Zambezi river and fortunately was conscious and able to swim to the shore where help arrived. The video is pretty amazing. It's not exactly like a free fall since the bungee cord stretches and slows her fall considerably*, but even so she fell 364 feet (111 meters) and landed head first in the river, which she found out later was crocodile infested. On top of that, her legs were bound together by the bungee cord, which trailed behind her and got caught under water. She was able to untie the cord and swim to safety. Reuters reported that she was treated at a clinic for cuts and bruises.

*If you watch the video closely you will see that the broken end of the bungee cord flips around and hits the water before Ms. Langworthy. What this means is that her fall was really a two-part effort. The first part was from 364 feet (imagine jumping from a 35-story building), but she was halted before hitting the water, probably somewhere around fifty feet above the river. The second part of her fall was 'only' from about the distance where she should have stopped (had the bungee cord done its job). Still, it's a very impressive feat and she gets bonus points for avoiding the crocodiles.

The description of this incident, with the broken bungee cord and the crocodiles, sounds so fantastic that if it weren't for the video it would be hard to believe. Even the woman's name, Erin Langworthy, seems too good to be true, as if it were an anagram with some hidden meaning. I encourage readers of this web page to try to create a meaningful phrase from the letters of her name. Here's my best try: Nearly hit wrong. If you come up with a good one, please send it along.

February 2012 update: I have to admit I was a little disappointed at the lack of response to my Erin Langworthy anagram request so I decided to try another method. I went to my favorite anagram web site (Internet Anagram Server = I, Rearrangement Servant) and used it to find a few more:

Was God playing with Erin? Is he a punster?: Earthling on Wry

Was this what she thought as she approached the water?: Near, try howling

A description of the bungee cord: Thinly worn gear

Certainly the ambulance chasers are surrounding her: In lawyer throng

Maybe her guardian angel is tired of saving her and quit?: Try new halo ring

A Special Note to Erin Langworthy: Erin, should you ever come across this page, let me assure you that while I am having fun with anagrams of your name, I am not making fun of you. I congratulate you on your amazing survival from a very difficult situation and I hope you have fully recovered. I wish you all the best!

A Sarah Charlesworth Update
January 2012: In (see November (see related entry)) I wrote the following in regard to a series of falling images by the artist Sarah Charlesworth: "Presumably, these were all photos of successful suicide attempts by people jumping off of buildings." These weren't all successful suicides as it turns out. One of our readers, who goes by the handle Stroopwafelverslaafde, wrote to us with new information. (Note: He explains that Stroopwafelverslaafde is Dutch for a person who is addicted to stroopwafels, two thin waffles with a sweet syrup filling in between.) Stroopwafelverslaafde has found a news article that includes one of the original photos. This was the case of a suicidal man named Jerry Hollins who jumped from the seventh floor of a courthouse rotunda in Chicago and was saved from death by a fireman's net. He was, however, critically injured. Perhaps other photos that Charlesworth used will turn out to be ones where firemen were on site with nets. It would make sense that if a news photographer was there, then maybe rescue personnel would be there too. Thanks to Stroopwafelverslaafde for his research on this!

A Very Short War
January 2012: Bill Young reports that he recently made a documentary which included interviews with the daughter and grand daughter of Ogwyn George, a well-known Wreckage Rider who survived a long fall in April of 1940 in Sweden. The film is called "A Very Short War." It is available on DVD. I have not seen the film but it sounds very interesting. It is the story of Jack Clifford (Cliff) Carpenter who was a crewmember on Sunderland L2167, which was shot down over Sylling, Norway on April 9, 1940. Ogwyn George was the only crewmember to survive.

February 2012 update: I bought and had a chance recently to watch Bill Young's fine documentary "A Very Short War." It is very well done and I highly recommend it. Whether you are interested in Sunderlands, family history, or World War II in general, I think you will enjoy it. For fans of the Free Fall Research page one added bonus of the documentary is that it includes a recording of Ogwyn George describing the incident. Oddly, he does not mention falling inside of a turret, which was a central point of other descriptions I have read. If anyone can clarify this point, please write.

Saved by Other: Grahame Donald
December 2011: During the summer of 1917, Royal Flying Corps trainee Grahame Donald was attempting a vertical loop in his Sopwith Camel when his seat belt gave way and he fell out of the cockpit at an altitude of about 6,000 feet. He fell an estimated 2,000 feet before dropping onto the wing of the plane, which had continued its loop in his absence. Donald reached into the cockpit and pulled back on the control stick, sending the plane into an inverted spin. Finally, at about 800 feet, he was able to get into the cockpit and gain control of the aircraft. He cut the engine and glided back to his airfield where he landed safely. This story appears in a book called "On a Wing & a Prayer: The Untold Story of the Pioneering Aviation Heroes of WW1, in their Own Words" by Joshua Levine, Collins (UK), 2008. If anyone has access to this book, please let us know. It is not easily available in the U.S. We'd like to know the date, location, and Donald's unit, as well as whether any other accounts of this story exist.

This incident fits in the category we call "Saved by Other." In this example, the "Other" is an aircraft but it could be a person, as in the case of an airman in a disabled aircraft who offers to share his parachute with another crewmember. A good example of "Saved by Other" is Joe Herman, who appears on the Other Amazing Stories page.

Lucky Landing Spot Saves Japanese Toddler
December 2011: A news report on December 16th describes the lucky circumstances surrounding the survival of a one-year-old boy who was thrown out of a 10th floor apartment window by his overstressed father. The 37-year-old father, named in Japanese reports as 'Mr. Hashimoto,' first tried to strangle the boy and then threw him from the balcony. The boy landed in a shrub below where he was found crying. His mother, who had been away from the apartment taking her four-year-old daughter to school, returned home and saw the ambulance with her son. She rode in the ambulance to the hospital. Her son was crying but had only a slight injury on his face. At the hospital after a CT scan and an X-ray, no major injuries were found. The father will undergo a psychiatric evaluation. The incident took place on the east side of Tokyo not far from the Monzennakacho station. Our thanks to Alan Scheckenbach and Toru Yamauchi for their help with this incident.

The Story of a Skydiving Accident
November 2011: Mike Paterson writes: "I was on my fifth jump and it was my second season. I'd done pretty good up to that point landing on my feet every time. The jump was 3200 feet with the instructor throwing my pilot chute out after my release hanging from the wing strut. My previous jump was a line twist, no biggie. I kicked out of that one without any issues. It was when I ended up with a line over that my world turned ugly. I looked up and it was a surreal feeling seeing that your chute is not what it's supposed to be. I had some resistance with the line over roughly the middle of the chute and the air filling the sides. My lack of experience left me afraid to pull my reserve. I thought if it gets tangled with the reserve or the reserve doesn't work, I'm screwed. So I rode it out.

"I think it was about 40 feet give or take from the ground when I pulled my steering lines hoping for a miracle. I recall my feet kicking up in the air, then I came down hard on the middle upper part of my back on a flat rock. I hit hard hearing what seemed like every bone in my body cracking. Funny thing is it fixed my lower back problems! I ended up with a fractured T7 vertebrae and broke my wrist. I was conscious and fully aware. After being rushed to Soldiers Memorial Hospital in Orillia Ontario, I had emergency surgery on my wrist. 12 hours later they let me leave. I spent the next 2 weeks healing at my parents place in Barrie.

"Being in the best shape of my life at the time, it helped immensely in the healing. It was a very traumatizing incident that left me feeling like I've never felt before. It took a long time before I could walk a fair distance again. Today I spend a lot of off time photographing wildlife. I'm also an independent Ontario Sasquatch Researcher after having several experiences over the last several years. Yes, that's right. It sure beats jumping out of planes, especially when you find out the truth."

(P.S. Mike's not talking about the truth of skydiving, he's talking about Sasquatch, but that's a story for another web site...)

An Artist's Falling Series
November 2011: In a 1981 show, American artist Sarah Charlesworth presented her interpretations of photos of people falling. Presumably, these were all photos of successful suicide attempts by people jumping off of buildings. (Note: See the January 2012 entry for an update.) The original photos are not Charlesworth's, she borrowed them from other sources, including one (titled "Unidentified Man, Unidentified Location") that was taken from an Andy Warhol painting. (Charlesworth's work fits into a class described by some art historians as 'appropriation art.') The images provide a frightening and eerie glimpse into suicide jumps. They were exhibited in 1981 at a show at the Tony Shafrazi gallery in New York City. The seven images are large (42 inches wide by 78 inches higher) and go by the following titles: Unidentified Woman, Hotel Corona de Aragon, Madrid; Unidentified Man, Ankara, Turkey; Jerry Hollins, Chicago Federal Courthouse; Unidentified Man, Ontani Hotel, Los Angeles; Unidentified Woman, Genessee Hotel; Thomas Brooks Simmons, Bunker Hill Towers, Los Angeles; and Unidentified Man, Unidentified Location.

You Need a Degree to Get on TV
September 2011: This is the second time I've gotten a call from the production company for William Shatner's program "Weird or What" (see October 2009). They we're looking for an expert on falling and hoped that I was one. Did I have a degree in physics or mathematics or medicine? "No," I said, "I'm just an amateur historian with a web site." "Do you know any experts," they asked. "Not that I can think of," I said. Then I told them my theory about expertise, which, in short, is that a person can become an expert in anything as long as they pick a narrow enough topic. I said, "For example, I consider myself an expert on a group of journalists who took part in the 8th Air Force's bombing of Wilhelmshaven on February 26, 1943 (see the Writing 69th home page). In addition, I feel I am an authority on people surviving long falls out of aircraft without working parachutes." It was to no avail. He wasn't buying it. He wanted a diploma. So, if you have the right degree, please contact me and I'll put you in touch with Mr. Shatner's production company.

Denial of Service Attack Targets Green Harbor Publications
September 2011: You may have noticed that the site was down over the weekend. Unbelievable as it may seem, Green Harbor Publications was the target of a denial of service attack that began sometime late last week. Our Internet service provider (ISP) was forced to take the site down because of the volume of hits. Initially the site was just inaccessible. Then the ISP put up a note that said "Bandwidth Limit Exceeded - The server is temporarily unable to service your request due to the site owner reaching his/her bandwidth limit. Please try again later." This situation continued for approximately 48 hours. Our ISP said that the attack was targeted specifically at www.greenharbor.com. We apologize for any inconvenience. We also are totally puzzled why anyone would target this site. If you have a knowledge of denial of service attacks and can help us understand this seemingly random attack, we'd greatly appreciate it. Could it have been something we wrote about spam e-mail? See two items down...

It's a shame too since we were just about to post some new questions and an addition to the Incident Log (see James Dearing).

Falling from Way Up in Outer Space or from a Plane at Low Altitude over Water
September 2011: A couple of new questions have come in that look at two very different falling situations. One asks whether you could skydive from space and make it back to earth without burning up and the other is about whether dropping passengers into water from a low flying airplane would be a better survival method than a water crash landing.

Not Much News on Free Falls, but the Spam E-mail Never Stops
August 2011: Summer (in the northern hemisphere anyway) is typically the time when new free fall stories concerning skydivers appear. So far it's been a quiet summer. Not so for spam e-mail, which keeps on pouring in. In regard to that, have a look at Green Harbor Publication's research page for a note on breaking the code of a new class of spam e-mail titles.

Michael Holmes Video on National Geographic
July 2011: Michael Holmes survived a fall with a malfunctioning parachute in December of 2006. His story will be told tonight (July 17, 2011) during a National Geographic program called The Indestructibles.

Toddler Caught after Falling 10 Stories
July 2011: A two-year-old Chinese girl from the suburbs of Hangzhou survived a 10-story fall last Saturday. An Associated Press article reports that she was caught by an attentive woman who had seen the child dangling from an apartment window. The child, Zhang Fangyu (nicknamed Niu Niu), is in the hospital in critical condition with internal bleeding and other injuries. Her rescuer, Wu Juping, was knocked down by the collision and broke her arm. The child was in the apartment alone. Her grandmother had left to run an errand.

To celebrate Niu Niu's survival we dedicate the following haiku to Wu Juping:

You saw her up there
And kicked off your high heeled shoes
To run and catch her

You saved Zhang Fangyu!
Excellent job Wu Juping!
You're my new hero!

Here's wishing Zhang Fangyu a speedy recovery.

More of Your Questions Answered
July 2011: A number of additions have been made on the Questions page with topics as diverse as falling cats, atmosphere density, water landings, and jumping into a hole dug through the center of the earth.

A Tribute to a B-24 Crew
May 2011: Nothing could be more fitting for Memorial Day than a video that John Tollison put together of Ray Noury's trip to the Czech Republic in 2004 to see the memorial for the crew members of his B-24, which crashed in 1944. Have a look, you won't be disappointed. Noury, who survived a long fall with a tattered and ineffective parachute, was the lone survivor. See his story under Unlucky Skydivers.

Making Haiku Lemonade Out of Spam E-mail Lemons
April 2011: This entry has nothing to do with falling. It is all about having a public web site that gets a lot of spam e-mail. Green Harbor Publications has been collecting spam e-mail titles since 2009 and now has a database of more than 2,000. We've catalogued them and recorded their rhyme, number of syllables, and subject. We've selected about 250 of these titles for use in a web tool that randomly creates a haiku made up of the actual spam e-mail titles. This random spam e-mail haiku generator is offered free of charge by Green Harbor Publications. Enjoy!

Damn Spam!
March 2011: The amount of spam e-mail that Green Harbor Publications receives is staggering and has been documented in a November 2009 entry below (a test that we recently repeated with virtually identical results). The other day we received an e-mail entitled something like 'Technical Question on Premature Deployment' and immediately deleted it as it sounded too much like the spam e-mails for Viagra and the like. It wasn't until a bit later that we wondered if maybe it was about parachute deployment, but by then it was too late. If you submitted such a question to the Free Fall Research Page, please resend it!

Lucky Golden Gate Student
March 2011: The recent news of a Golden Gate Bridge jump survivor has prompted another e-mail question about falls into water. The 220-feet of the unnamed student's fall is more than the highest intentional jump we could find (170 feet), but it has been pointed out that it's lower than a Guinness world record by a man named Harry Froboess who it is believed (though some question it) to have jumped from the airship Graf Zeppelin into the Lake Constance from a height of 361 feet. We are in the process of acquiring Froboess's 1953 autobiography "The Reminiscing Champ" which we hope will provide confirming details.

Note: We've read Froboess' authobiography and though he says he did jump from a zeppelin, it was with a parachute. He mentions two other dives into water but both were less than 300 feet. There is no mention of a 361-foot jump into Lake Constance.

What Is a Free Fall?
February 2011: In the news recently there was a story about a man named Adam Potter who fell 1,000 feet or so from the top of a mountain called Sgurr Choinnich Mor in Scotland. It's an amazing survival story and one that we will include among the database of files we keep on these incidents, but is it really a free fall? In short, "No." Mr. Potter basically bounced down the mountain. That's not a free fall. Of course, there are other incidents in our collection that aren't true free falls, for example, people who fall with a tangled parachute above their heads or those who cling to wreckage on their way down. We also have a separate category for the folks who fall or jump out of skyscrapers. We do this since the Skyscraper Falls are generally from a lower altitude than those who fall from aircraft. We've drawn the line at 10 stories. This only makes the true Free Fall stories that much more amazing.

P.S. Thank you to all the folks who sent me the link to the Adam Potter incident. I greatly appreciate your help!

Argentinean Skyscraper Fall Survivor
January 2011: In an incident that is similar to Thomas Magill's recent fall in New York City, an Argentinean woman fell 23 stories from a Buenos Aires hotel in an apparent suicide attempt last Monday. The Associated Press reported that the unidentified thirty-year-old survived when she landed in a seated position on the roof of a taxi. She was operated on at a nearby hospital for internal bleeding and broken ribs and hips. The incident occurred at the Hotel Crown Plaza Panamerica. Witnesses said she climbed over a barrier at the hotel's rooftop restaurant.

Uncollected Garbage Pile Saves the Day
January 2011: Although his nine-story fall is one story short of the ten-story minimum we arbitrarily selected for inclusion in the Long-Fall Survival report, the amazing survival of Vangelis Kapatos is worth noting here because of the way he survived. His life was saved by the bags of garbage he landed on. The garbage had piled up after New York City's recent blizzard. Kept in the apartment building's basement, the bags had only been moved out to the sidewalk hours before. Kapatos, who was depressed, despondent, and suicidal, had jumped from his ninth story apartment on West 45th Street in midtown Manhattan after breaking up with his girlfriend. He was also concerned that he would soon be evicted and that his father had been diagnosed with cancer. Though early reports indicated he would be paralyzed, it appears now that he will recover.

Falling into Water
December 2010: For whatever reason, the Free Fall Research Page has been awash recently with questions about falling into water. The latest one is about how deep water would need to be to keep you from hitting bottom on a jump from 200 feet. With all these questions we're beginning to wonder if there is some deeply-felt human desire that landing in water will save you from a long fall. The fear of falling is a primal fear for many people, and is closely related to the fear of heights. Unfortunately water is not that forgiving. We are reminded of a comment one of our correspondents made: "...falling on water at high speed is like falling on concrete, except concrete won't swallow you after breaking your bones and rendering you unconscious." See the Questions page for more.

Nice Catch!
November 2010: A story this week in Reuters describes how a 15-month-old baby survived a seven-story fall this week after bouncing off an awning and being caught by an alert passerby. It's a wonderful tale that's almost too good to be true. Every once in a while we hear about a story that seems made up. It is also true that there are people in the world who take delight in making up a story and convincing others that it's true. The Reuters story had some questionable characteristics that made us wonder whether that respected news organization had fallen for such a hoax. For example, none of the people quoted in the story (the police spokesman, the cafe owner, another witness...) were named and there was a surprising lack of other details (the part of Paris where the fall took place, for example). It was a little suspicious. So we were reassured to find some of the original articles in French which named witnesses and included a marvelous picture of the building. If you'd like to try out your French, see these articles from Le Progres and Le Figaro. Thanks to Alan Scheckenbach for sending us the Reuters article!

LD50?
October 2010: We get some great questions, but this time we were stumped. If you know the LD50 for falling off a building, please let us know. This fascinating question (which is now on our Questions page) comes from Tim Chaney, who writes: "Thanks for the great website. It is a blessing for a physics teacher." Wow! Thanks, Tim!

Elevator Falls and Finland during World War II
September 2010: We've added two new entries to the Incident Log thanks to e-mails from our readers. One is about a man who fell down an elevator shaft in the Transamerica building in the early 1970s and the other is about a Russian pilot who survived a long fall in Finland during World War II. We hope you may be able to provide additional details.

Database Insight
September 2010: Someday we'd like to include on this web site the database we have collected of various free fall incidents. What we'd like to do is display a tab-delimited file via a simple graphical user interface along the lines of the Lost Bomber database. If you can explain to us how this works, please contact Jim Hamilton. This is not a request for paid help. This site runs on a shoe-string and does not solicite advertising. We are looking for an inexpensive way to do this ourselves.

Speed, Time, and Elapsed Distance Fallen Graphic
September 2010: There's a new addition to the Falling Math page that helps answer the question: How long does it take to fall and how fast were they going? It's a graphic that shows elapsed distance fallen over the first twelve seconds of free fall. It also shows the speed (in miles per hour and feet per second) of the falling person. We hope you will find it useful.

39-Story NYC Skyscraper Fall
September 2010: 22-year-old Thomas Magill survived an apparent suicide attempt after a 39-story fall when he crashed through the back window of a parked 2008 Dodge Charger. The incident occurred on the west side of Manhattan on Tuesday August 31st. Magill was conscious after the fall and had surgery Tuesday night on his broken legs. For more details see these accounts in the New York Daily News: one is about the fall, another is about his road to recovery, and the last is about the fact that no one knows why he jumped. An entry on this fall has been added to the Recent Incidents section of the Incident Log.

Free Fall News and Some Kind Comments
August 2010: An unnamed 24-year-old survived a fall after colliding with another skydiver in Wilton, New South Wales, Australia. It's not clear how far he fell but his chute became tangled and his reserve failed to open. He was hospitalized with suspected spinal injuries. See the article in the Sydney Morning Herald for more details. If you have additional information, please let us know.

The news about the Australian incident came to our attention via two Australian correspondents. Thanks to both of you for letting us know! One wrote: "I love the website - it's my all-time favourite, and I can't even be sure why! I just think it's great."

We also have received new information on the Wally Benton incident that was added not long ago to the Incident Log. Our thanks go out to the Boise State University archive for their help!

Another Skyscraper Fall Is in the News
August 2010: Late in July a 15-year-old boy from New Zealand fell 16 stories off a balcony and survived. Falling through the roof of a parking garage (and missing the support beams) slowed his fall and aided his survival. See the Incident Log for more details.

Free Fall Research Page Mentioned in Playboy Magazine
May 2010: Someone informed me, I won't say who, that a reference to the Free Fall Research Page appeared in the letters section of Playboy magazine (the June issue, I think). Here is the question : My girlfriend, who is a bit of a daredevil in and out of the bedroom, wants to take me skydiving. She says not to worry, but if my chute fails, is it possible to survive the fall? H.M., Memphis Tennessee. Here's Playboy's answer: Do you love this woman? Because this won't be the last time she asks you to take a flying leap. As a novice skydiver you will be attached to an instructor who also doesn't want to die and will know how best to avoid it. That should take some worry out of the equation. Millions of people have dropped from the sky and survived, including at least 200 who didn't have chutes, according to Jim Hamilton, curator of the Free Fall Research Page (greenharbor.com) and author of Long-Fall Survival: Analysis of the Collected Accounts. The exclusive club includes World War II gunners who lived after falling as far as four miles and airline passengers who rode down in the wreckage. If you ever find yourself in this unusual situation, look for trees, snow, mud or a hill you can roll down on impact. Aim feetfirst for water, but from anything higher than 10 stories it's going to be like hitting concrete. Have a good time.

Allow me to nitpick for a moment: While there are more than 200 accounts described in the Long-Fall Survival report, about 50 of those are ranked as unconfirmed. Of the remainder, about half did have parachutes, but either they didn't open or they failed in one way or another. And as far as water goes, I don't think it cares how high you jumped from. It's equally hard from 10 or 10,000 feet, it depends more on how fast you are falling. In regard to the reader's question, I wish I could be more reassuring about skydiving for novices, but two recent stories about tandem jumps leave me determined to keep my feet firmly on the ground. (See below.)

The Story of a Tandem Malfunction
May 2010: Martin Swords, a tandem instructor from Mississippi described his experience on March 25, 2007: "I was taking a first time skydiver on a tandem jump. His name is Wayne. We left the Twin Otter at 14,000'. It was a normal exit and a great freefall. At 5500' I pulled the main ripcord and it wouldn't even come out so I pulled the student ripcord all the way out and nothing happened. I looked over at my video man and his eyes were bulging at this time. I thought to myself 'well this is interesting'. Then I pulled the reserve handle. The reserve opened beautifully but when it got opening shock it jarred the main loose and it started inflating. When I saw this I pulled the cutaway handle but the main didn't fully release and flew right up into the reserve. I checked my altitude and we were at 3500' at this point. The main slid up the reserve lines and collapsed the reserve and became a streamer itself over the reserve. I was pulling the toggles and doing everything I could think of to get it loose but to no avail. Wayne asked if we had a problem and I said we have a malfunction and he said what about the reserve. I said it's tangled with the main. As I was dealing with it he asked probably the worst question I've ever been asked 'are we gonna die'. All I could think of was not if I can help it. That was our last conversation. I never got scared or panicked. I don't think I had time to. I do remember praying and thanking God for my family. Then it was comfort. The last thing I remember before hitting the ground was saying 'Jesus help me' and I wrapped my arms and legs around Wayne to try to take the beating off him. I suffered 5 broken vertebrae and a shattered right femur. Wayne suffered 3 broken vertebrae. I now have all 5 vertebrae screwed together and my right leg is 1" shorter than my left. The last time I talked to Wayne he was doing okay. After 10 months of recovery I started jumping again and doing tandems. At the time of my accident I had around 3600 jumps and now have right at 4000. Was it scary? No, it wasn't, you just try to make things right and never give up."

So what Playboy said is true: Your tandem skydiving instructor does have strong motivation for everything to go well. It's clear also from this story that they are likely to go above and beyond the call of duty in an emergency. For another example, see this story about a tandem skydiving instructor named Dave Hartsock who was gravely injured trying to save his student.

ABC News Article on Surviving Long Falls
May 2010: Michael James of ABC News recently contacted the Free Fall Research Page about an article he was working on regarding long-fall survival stories. This article has recently been published and includes a reference to the Free Fall Research Page. The article is called They Fell From the Skies and Lived to Tell the Tale and can be found on the ABC News site.

David Carkeet's New Novel From Away Is in Bookstores!
April 2010: If you enjoyed David Carkeet's The Unplanned Freefall (and unless you lack a funny bone, you should have), then keep an eye out for his new novel From Away. From Away tells a story of mistaken identity, railroad modeling, and murder in a small Vermont town. Carkeet's protagonist, Dennis Braintree, works undercover to solve the murder that he's under suspicion of committing. We think you'll enjoy the quirky characters, the unpredictable plot, and the surprising conclusion. The book is published by the Overlook Press and is available for $25.95. See the David Carkeet web site for more information.

The Amazingness Scale
March 2010: Two long-fall survival stories were in the news recently, one from Chile (Alberto and Fernanda Rozas, see below) and one from South Africa (Lareese Butler). Both are amazing stories and both have been added to the Recent Incidents section of the Incident Log. Lareese Butler's doctor (according to a quote in the Herald Sun via her stepfather) said "it was nothing but divine intervention, nothing short of a miracle." You know where we stand on miracles so we won't belabor that point, but we would like to describe what we call the 'Amazingness Scale', which is used to compare the various incidents described on this site. The highest possible Amazingness Scale score is 100, but no one has yet achieved that. A Free Faller falling without a parachute from higher than 30,000 feet would get a 100. The highest score recorded to date is a 96 for Vesna Vulovic. She lost five points for falling in wreckage but was given a bonus point for having a hotel named after her near the crash site. Nicholas Alkemade is another high scorer with a 91. He fell only 18,000 feet (compared to Vesna's 33,000) but otherwise no other points were deducted. He got a bonus point for lighting up a cigarette as he contemplated his unbelievable luck. Lareese Butler scores a 55 on the Amazingness scale, losing points for her streaming parachute and relatively low altitude. Points are also taken off for recreational skydivers (as opposed to military cases), since their jumps are voluntary, though perhaps we should reconsider for her since one newspaper article reported that she was pushed. The 13-story fall of Alberto and Fernanda Rozas scores a 60 due to the low altitude and falling with wreckage. Anything north of a score of 80 is a very high score. Many wreckage riders and free fallers fit among that group.

Two People Survive 13-Story Fall in Concepcion, Chile
March 2010: An Associated Press story by Michael Warren describes how Alberto and Fernanda Rozas survived the collapse of their apartment building following the earthquake in Chile on February 27, 2010. They were in their 13th-floor apartment when the earthquake hit. After the building toppled over they were able to climb through a window to safety with only minor injuries. The article notes that seven people had died in the building and that by the following day 23 people were safe and another 60 were still trapped inside. Photos by AP Photographer Natacha Pisarenko provide some perspective on how the building fell over. (Search ap photo natacha pisarenko concepcion earthquake building for a number of images of the destroyed building). Rather than collapsing down on itself the building appears to have toppled over like a downed tree. This is an interesting long-fall case in that it represents a wreckage rider skyscraper fall. We have not been able to find any follow up stories about Alberto and Fernanda Rozas or any other survivors of the 15-story Rio Alta building they inhabited so if you have additional details on this, please let us know.

The Beneficial Aerodynamic Qualities of a B-17 Tail
February 2010: We've decided, after gathering many such stories, that if we ever fall in the tail of a wrecked aircraft, we want it to be a B-17 bomber. There are at least four incidents of B-17 tail gunners surviving long falls in a severed B-17 tail: James Jent, Joe Jones, Eugene Moran, and James Raley. See Wreckage Riders (though not all of these stories are up there, for example, the Raley account we have just discovered). Erwin Koszyczarek is another but there's a chance he might have been in a B-24 tail.

April 2016 update: Erwin Koszyczarek was in a B-17 after all. His was a 99th Bomb Group B-17, 42-32071 (MACR 12082).

Welcome New York Times Readers!
February 2010: The New York Times blog picked up on Dan Koeppel's Popular Mechanics article. If you enjoyed Dan's article, you should have a look at David Carkeet's Unplanned Freefall. We highly recommend it. We also particularly enjoyed a poem submitted by Larry Eisenberg as a comment to the New York Times blog. Eisenberg builds on the contention that a Wreckage Rider has a better chance than a Free Faller:

Free falling to me sounds appalling,
But I'm happy to know I've a chance,
Without some debris t'would be galling,
And I'd look at the landing askance.

So a piece of the Plane I must gather,
E'er I plummet in free falling space,
But I must admit that I would rather,
Not be free falling in the first place!

Long-Fall Illustrations
January 2010: Green Harbor Publications has commissioned a series of twelve illustrations for a planned 2011 calendar. Each illustration will depict a celebrated case of long-fall survival. The first illustration has been completed (see below).

Near Pucalipa, Peru: After a LANSA turboprop airliner broke up in a storm Juliane Koepcke fell thousands of feet into the rainforest (December 24, 1971)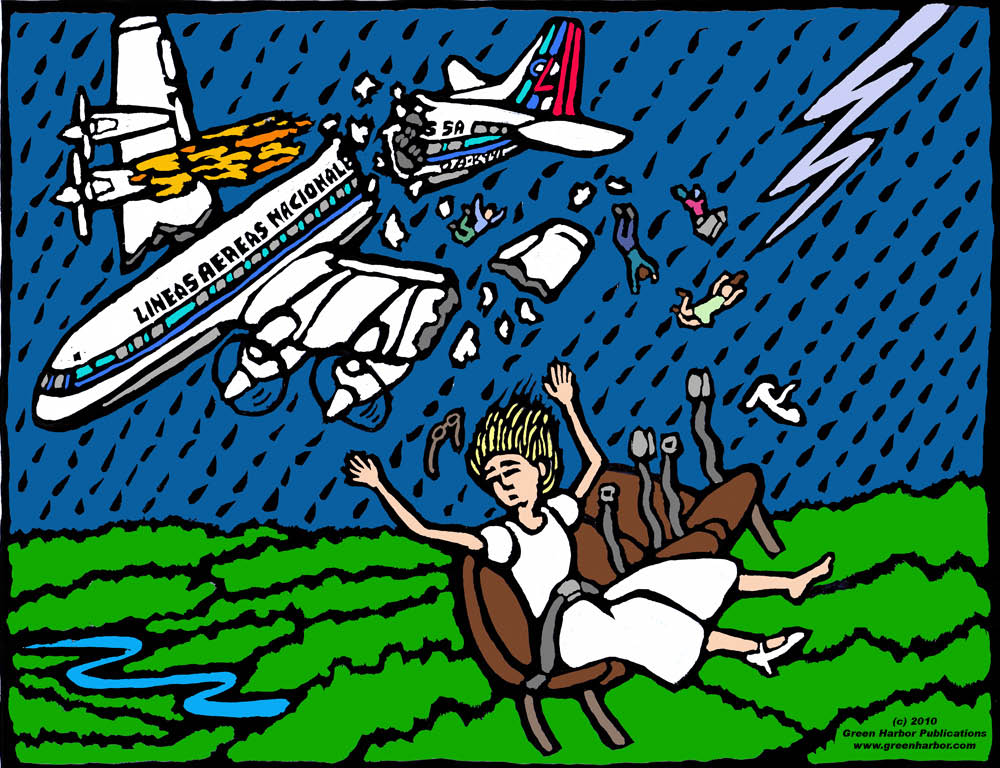 Other incidents currently under consideration for inclusion in the calendar are:
January - Srbska Kamenice, Czech Republic: Vesna Vulovic survived a fall of 33,000 feet in the wreckage of a DC-9 jet airliner (January 16, 1972)
February - Cholenice, Czech Republic: Ray Noury, a radio operator on a B-24 bomber, fell 15,000 feet with a shredded parachute (February 22, 1944)
March - Ostend, Belgium: Joe Jones, a tailgunner in a B-17 bomber, fell 13,500 feet in the severed tail of the aircraft (March 1, 1945)
April - Cape Town, South Africa: Nicholas du Plooy survived a fall from the 19th story of the Ritz Hotel under mysterious circumstances (April 20, 2004)
May - RAF Watton, Norfolk, England: Ken Topaz ejected from crashing jet aircraft at ground level and came down before his parachute opened (May 3, 1966)
June - Sint-Amandsberg, Belgium: Alfred Muhler fell from the wreckage of a German zeppelin into a monastery (June 7, 1915)
July - Norfolk, Virginia, USA: William Rankin ejected from a F8U jet fighter in a violent thunderstorm and didn't come down for forty minutes (July 26, 1959)
August - Berlin, Germany: Wing Commander Ken Burns was blown out of his Lancaster bomber and survived an 18,000-foot fall to the ground (August 31, 1943)
September - Charlotte, North Carolina, USA: Joan Murray's main and reserve parachutes failed during a recreational jump (September 25, 1999)
October - Wintraak, Holland: After his jet fighter disintegrated in mid-air at around 2,000 feet, Peter Underdown survived a fall into an apple orchard (October 1954)
November - Near Bochum, Germany: Joe Herman was hurled out of his aircraft without a parachute, but encountered John Vivash on the way down (November 5, 1944)
December - Shown above
Welcome Popular Mechanics Readers!
January 2010: The February issue is out and includes Dan Koeppel's story: "Take a Fall - The 120-mph, 35,000-foot, 3-minutes-to-impact survival guide." For those of you who are here because of that article we hope you enjoy the Free Fall Research page. Please send comments/questions to Jim Hamilton. Check here to see the on-line version of Dan's article. Also of interest are the 5 Tales of Survival from Extreme Falls, which only appears in Popular Mechanics on-line. The comments to this article have provide a good lead that we've now included in the Incident Log (Tim Piggot/Pigott).

An Apt Quote from a Short Story by Judy Budnitz
January 2010: "The terror of falling is not the earth rushing up, smiling and effusive, to embrace you like an old friend you had hoped never to see again. Nor is it the fear of impact, the teeth-rattling jolt, like the violent thrust you close your eyes and brace yourself for in the night. It is the sense of betrayal, as you arch earthward like a shooting star and look down to see no one there waiting to catch you."
From the short story "Flight" by Judy Budnitz (Flying Leap, Picador, New York, 1998)

Kind of Fascinating
December 2009: Warning: Rant ahead. What is it with "kind of" and "sort of"? The use of these phrases has expanded to ridiculous proportions. This week I heard someone say "I'm kind of very interested in". Huh? How can you be "kind of very interested" in something? Either you are very interested or not. If they'd said "I'm kind of interested in it" that would make sense. That's what the phrases are for. They downplay something and lessen its importance. I've heard PR people say that a new product or service is "sort of unique." It's the same issue. It's either unique or it's not. It can't be sort of unique any more than a woman can be sort of pregnant! The stories on the Free Fall Research Page are interesting, fascinating, compelling, and unique. There is no "sort of" or "kind of" about them.

Free Fall Research Page in Upcoming Issue of Popular Mechanics
November 2009: Dan Koeppel has written an article about falling survival stories for an upcoming issue of Popular Mechanics (probably the February 2010 issue). Koeppel is the author of "Banana: The Fate of the Fruit that Changed the World." You can learn more about Dan at www.dankoeppel.com and follow him on Twitter at soulbarn.

Lost in the Spam Blizzard
November 2009: Sorry for the guilt trip but here's what I have to put up with to assure that I can get e-mails addressed to the Free Fall web site. I post an e-mail address here (rather than using a form) and so it is picked up by every spam mailer in the world and used to send me Viagra, counterfeit watch, bogus degree, pirated software, Nigerian scam, and Canadian pharmaceutical offers. This past week I kept track of the number of total e-mails and the number of ones I actually cared about. Here are the results of this minor survey. Over those seven days I received 1,499 e-mails. That's more than 200 e-mails a day, with the busiest days in this week-long sample being Monday and Tuesday and the lightest Thursday and Saturday. Many of the spam messages purported to come from greenharbor.com addresses. (Though I love e-mail it baffles my mind that a system was created that makes it so easy to lie about where the e-mail was sent from.) Less than 1.3% of the e-mails received (a total of 20) were ones I cared anything about. A bunch of those were from places like Amazon.com, JetBlue, my bank, and my local NPR station. Only 7 of the good e-mails were actually from real people, and none of those were from someone I'd never heard from before. Despite all this spam I want to make clear that I make a point of replying to anyone who sends me a real e-mail, so if you ever write to me and don't hear back, try again. Your e-mail may have gotten lost in the spam blizzard.

Want to be on Discovery TV?
October 2009: We heard this week from Caroline Grist of Cineflix who is working on a new popular science series for the Discovery TV channel. They are preparing a film examining "what happens to the human body during free fall, and why some people survive ..." She would like to hear from any recent free fall survivors particularly those from the U.S. or Canada. They're looking into the factors that contribute to survival after a free fall including position at landing. So, if you survived a free fall and want to be on TV, then here's your big chance. Here's another bonus if you are still doubtful: the series will be hosted by none other than William Shatner.

We're on Twitter
October 2009: If you would like to get Free Fall Research Page updates on Twitter then follow us at: FreeFallReport. The other Green Harbor Publications web pages (the Writing 69th home page and the 44th Bomb Group Roll of Honor) also have Twitter accounts. The accounts are Writing69th and 44thbgROH.

Marstons Mills Update to the Travel Destinations page
October 2009: Jim Hamilton recently visited Mystic Lake in Marstons Mills, the site of Lois Frotten's fall (see Unlucky Skydivers). If you visit Massachusetts and go to Cape Cod, you'll find this spot near the airport in Marstons Mills. See the Travel Destinations page for more details.

New Layout for the Home Page
October 2009: After years of having a two-column approach (one for Recent Developments and one for News) on the Free Fall Research home page, we have moved to a single column layout. We have also integrated past entries from the short-lived Free Fall blog. The home page now serves as the blog and anyone who wants to comment can e-mail Jim Hamilton.

MythBusters III
September 2009: We had a chance to meet one of the MythBusters build teams at a recent graphic arts trade show. Xerox brought in Tory Belleci, Kari Byron, and Grant Imahara for a lively session that covered the TV show as well as some myths about digital printing that Xerox busted during the hour-long event at Print 09 in Chicago. See this link for some visuals on the event.

MythBusters II
September 2009: Episode 69 of the fourth season of MythBusters (which aired December 13, 2006) tested whether a bomb explosion inside the skylight of a train station helped a World War II airman survive a 22,000 foot fall. The MythBusters team concluded that it could not have helped. They didn't mention Free Faller Alan Magee by name, but he, of course, was the test case. This is (at least) the second MythBusters show on a Free Fall topic (see note on a Vesna Vulovic-inspired MythBusters episode below). It would be great to continue the MythBusters investigation to see how Magee really did survive. It would take, however, a much less TV-friendly type of work. What we need is for someone to go to St. Nazaire and do some library research on existing historical documents in either German or French. These might unlock the clues to Magee's survival. Given that the train station exists today, it seems fairly likely that there was no devastating bomb explosion inside the station, but what is not entirely clear is whether he (A) fell through the skylight (and then hit something next inside the station), (B) he hit a glancing blow to the angled skylight and remained on the roof, or (C) some combination of the two (i.e. broke through the skylight and was left hanging in mid-air by his harness). If you live in or are traveling to St. Nazaire, France maybe you can help us find out.

Paul Lewis
August 2009: Paul Lewis survived a failed main parachute and a spiraling fall with a uncooperative reserve on August 14th in Whitchurch, Shropshire, England. The story has a lot of similarity to that of Shayna Richardson. See more on the Paul Lewis story in the Incident Log. Thanks to Roger Lee and Andy Gordon for sending us the link to the story.

Out of a C-46 and Back in Again
July 2009: Although this is not quite a long-fall story, it could have been. In this video pilot Fred Seals describes an incident that happened when he was the pilot of a C-46 Commando flying a troop re-supply mission in South Korea in March of 1952. The crew was having trouble (due to turbulence) in pushing the pallettes out of the aircraft. Seals told the co-pilot to take the controls and went back to help the crew. The aircraft was bouncing and fishtailing in the wind as Seals went to the back. During one particularly violent drop, Seals went out the side of the C-46. Seals looked down and could see the ground below him. He wondered which way it was to North Korea. He thought to watch out for the horizontal stabilizer. A moment later he was back in the C-46 on his hands and knees. Somehow the aircraft had scooped him out of the air and he came back in the same place he exited. This NBC report says that he was the only pilot ever to fall out of and back into an airplane, but that isn't the case. There have been other incidents, though it was more likely in open cockpit aircraft. Thanks to David Olson for sending us the link to the video.

Saved by Snow
May 2009: Another falling story was caught on video. This time it's from Russia and involves a cameraman named James Boole who was filming another skydiver, lost track of time, and opened his parachute too late. Hitting a snowy slope was key to his survival. See it on video and read more on the Incident Log.

Long Fall Categories
March 2009: As this research has progressed, stories have poured in. There are now more than 260 incidents in our database, only a small percentage of these are described on the web site. In addition to the main Free Faller, Wreckage Rider, and Unlucky Skydiver categories, some other groups have become apparent. These groups are described in more detail in the Long Fall Survival report, and some are described on this web site (such as the Lucky/Unlucky Skydivers) but there are two others categories that should be noted here as well. These are: Saved by Other and Low Altitude Ejection. Saved by Other refers to the rescue of a seemingly doomed individual through the actions (sometimes intentional, sometimes fortuitous) of another individual and includes accounts of two airmen who survived a descent under a single parachute. As befits the title Low Altitude Ejection, these individuals ejected from their aircraft at very low altitudes and survived the ejection without the benefit of a fully open parachute. See Other Amazing Stories for examples of both of these types of stories.

Ray Noury, World War II Survival Story
February 22, 2009: A new and fascinating World War II survival story came to light in the Providence Journal today. Falling from 15,000 feet after his aircraft exploded, Ray Noury was saved by a combination of (A) a tattered and ineffective parachute (held on by a single strap), (B) a conveniently placed ski slope, and (C) searchers who found him before he froze. Ray Noury, now 86 and living in Rhode Island, has been added to the Unlucky Skydivers page. The Providence Journal article includes a video interview with Mr. Noury. Another interesting intervew of Mr. Noury is one by Friar Roderick.

Medal of Honor Winners
January 2009: The Free Fall Research Page knows of three Medal of Honor winners who survived long falls either before or after they won the Medal of Honor. For more information, see the new Medal of Honor page.

Eight Lives Left After 34 Story Fall
December 2008: Agence France Press reports that a seven-year-old cat named "Voodoo" recently survived a 34-story fall from his owner's high-rise apartment. The owner, Sheree Washington, said that Voodoo liked to stand on a small ledge outside the apartment. How he fell is not known, but it appears that a well-placed bush broke his fall. Voodoo suffered only minor scratches and a damaged paw. For more on falling cats, see our Questions page.

Free Fall Travel Destinations
November 2008: Some sites of free fall incidents have a memorial or a plaque. For more information, see the new Travel Destinations page.

Tree Saves Balloonist After Long Fall
On August 31, 2008, Chuck Walz was the pilot and only passenger in a hot air balloon during the Great Southeast Balloon Fest. He was flying in a navigational competition when the basket of the balloon began to rock, he said, due to wind shear. It is unclear what caused the balloon to deflate, but witnesses described its fall as "like a rock with a shoestring." Walz said he was at 13,600 feet at his highest. He later said that his global positioning system (GPS) put the speed of descent at 95 miles per hour. The balloon came down in a residential neighborhood, landing in a tree about 20 feet from a house. Walz was pitched out of the basket at a height of about 10 to 12 feet. He was conscious when rescuers arrived but his leg was badly injured, he broke his pelvis, and he suffered burns to his right hand and arm. His fall was recorded by photographers. A good view is this still photo by Ricky Hilton. See also the Fox Carolina news report on the story and the Channel 7 news report

New York, New York: Another Long Fall Survivor in the Big Apple
On July 31, 2008, a 12-year-old girl named Grace Bergere was on the roof of her West Village apartment building showing her cousin the view from the rooftop deck. She climbed a ladder beside a brick chimney to get even higher but somehow when she reached the top she fell. Her descent down the chimney covered 14 stories (an estimated 180 feet). Her rescuers did not expect to find her alive. Upon opening the door of the furnace, however, they could see Grace's hand reaching out of the soot. A two-foot pile of ash at the base of the chimney appears to have saved her. She was hospitalized at Bellevue for an injured hip and was listed in fair condition. Fire Lt. Simon Ressner speculated that she fell head first and landed on her back. Grace's father, Steve Berger, is a well-known jazz guitarist. (I have no idea why Grace's last name has an 'e' on it and her father's doesn't but that's the way it was in the Associated Press article...)

A Short Film about Alan Magee's Fall
In 2000, Rodney Ascher (www.rodneyascher.com) made a short film called "Triumph of Victory" about Alan Magee, the U.S. airman who survived a long fall from a disabled bomber in World War II. It's about three minutes long, the length of time of Magee's fall (according to the calculations of the filmmaker). The film starts with an exploding B-17 and continues with much falling and screaming by the actor playing Magee. His flailing, tumbling body is superimposed over battle scenes with World War II aircraft. The film is accompanied by patriotic music and is patterned after newsreels and government films of the 1940s. You can see Triumph of Victory on Youtube.

Werner Herzog Documentary about Juliane Koepke
Werner Herzog's documentary "Wings of Hope" is available on DVD. It can be found through www.wernerherzog.com. It is on the first of a six DVD set (the DVDs are sold individually) that includes much of Herzog's work. "Wings of Hope" is a must-see for fans of the Free Fall Research page. Coincidentally, Herzog had nearly ended up on the same flight as Juliane Koepcke (see Wreckage Riders), who survived a long fall after the aircraft she was in broke up during a storm in December of 1971. The film documents Juliane Koepke's return to the site of the crash and traces the route of her 10-day trek through the Amazon rain forest to safety.

Window Washer Survives Long Fall
On December 7, 2007, a window washer named Alcides Moreno survived a long fall from the top of the 47-story Solow Tower on East 66th Street in Manhattan. His brother, Edgar, who was working with him, hit a fence and died immediately. Alcides' survival may have been helped by the window washing platform, which it appears he rode to the ground. His fall may have been slowed or halted somewhere around the 10th floor by the cables connected to falling platform. Whether he fell 500 feet at once or stopped briefly before the last 100 or so feet, his survival is still amazing. His condition was grave for several weeks as he lay unconscious. On Christmas day he spoke for the first time since the accident. Doctors now say he will recover, although he will require extensive physical therapy. See articles by the Associated Press and the New York Times for more details.

Noel Farrelly reenactment video
In April of 1977, an Irishman named Noel Farrelly fell 7,000 feet after his main parachute failed and his reserve only partially opened. (It's described in one account as a "horseshoe malfunction."*) He was saved by a well-placed tree, which broke his fall. (He, in turn, broke a sizeable branch off the tree.) Farrelly, a member of the Irish parachuting team, was hospitalized with multiple injuries but survived. Filmmakers Mandy and Leo Dickinson included a reenactment of the incident in a 1992 video entitled "Dead Men's Tales." Thanks to Kieran Ryan and Allen Foster for pointing this incident out to us and providing additional information. The video is only available in PAL format, which is not of much help to viewers in the U.S., but may be of interest to those in Europe.

*See Wikipedia for a definition of a horseshoe malfunction (commonly known as a "horseshoe mal.")

Michael Holmes video
It turns out that not only did Michael Holmes have a helmet cam, but so did his buddy Jonathan King. Holmes showed up on the Today show on Monday February 12, 2007. The video is not on the Today site but can be found on a Dutch site called Jaggle. Many thanks to Arjo Verweij for sending us the link. It's also on YouTube. Thanks to Dave Reynolds for pointing that out.
Another take on this video is this Mail On Sunday Exclusive.

Free Fall Research Page Speed Conversion Table
February 2007: We have recently added the Free Fall Research Page Speed Conversion Table to the site. This is a device that allows you to see comparable values in miles per hour, kilometers per hour, feet per minute (or second), or meters per minute (or second). Enjoy!

Man Survives 16-Story Skyscraper Fall
Joshua Hanson, a Wisconsin man visiting the Twin Cities for a dart tournament, survived a 16-story fall on January 20, 2007. He and a group of friends had been out drinking and returned to the Minneapolis Hyatt Regency and were "horsing around" on the 17th floor. He went over a safety bar, crashed through a window, and fell about 160 feet. He landed feet first on a roof at the first-floor level. He was hospitalized in critical condition with a badly broken leg and collapsed lungs.

Channel 5 Eyewitness News, the ABC affiliate in the Twin Cities (Minneapolis-St. Paul), did a series of excellent stories, but unfortunately the links are no longer valid and the stories can't be found through their search engine. It's too bad because the story on the science of falling was really good. They even did a story on the strength of the glass.

The Free Fall Research page is primarily focused on falls from aircraft, but we have covered a couple of skyscraper falls. If you know of any such falls that were higher than 10 stories, please let us know.

Michael Holmes and Benno Jacobs
December 2006: There have been two recent incidents (that we know of anyway...). The latest one happened in New Zealand on December 12th and involved a man named Michael Holmes (see the Incident Log for full details). The news did not reach the media until December 21st but shortly thereafter we received five e-mails from visitors to the Free Fall Research page. We would like to thank Roger (no last name given), Graham Stevens, Alan Scheckenbach, Peter Ceulemans, and Simon Roberts for letting us know. The other incident took place in South Africa in August and involved a man named Benno Jacobs. No one wrote in about that incident, perhaps because it was remarkably less spectacular than Holmes' fall (Jacob's parachute was described as being 75% open...).

Dave Hodgman Photo by Ian Kelso
November 2006: We recently heard from Dave Hodgman, who provided a fascinating photo documenting his fall. It was taken by Ian Kelso. Ian, if you ever find your way to this web page, please drop us a line!

The Long-Fall Survival Report Is Complete!
October 2006: We have completed the Long-Fall Survival report! For more information please click here. To purchase, click here. We have also published a press release.

CBC Radio Interviews
The CBC radio interviews with Jim Hamilton are available as MP3s to listen to. Please send us a note if you'd like to hear them.

CBC Freestyle Interview II
On Tuesday October 10th, 2006, Jim Hamilton was interviewed again for the CBC program Freestyle, this time because of the publication of the Long-Fall Survival report. He talked about some of the stories that the show's listeners reported to him after his last appearance, and which are included in the report.

Scott Lutz, an Lucky/Unlucky Skydiver
Scott Lutz is an excellent example of an Lucky/Unlucky skydiver. These are the folks who are lucky in the sense that their parachute works, but unlucky for some other reason. Lutz's bad luck was recorded on a video that you can find on YouTube by typing in 'Unlucky Skydiver'. The video shows Lutz exiting the aircraft with two instructors. His parachute opens and breaks away immediately, apparently because he pulled the wrong lever. He opens his reserve and heads directly for some high-tension wires, which he hits, surviving with some burns. It's pretty amazing to watch the whole thing unfold. If it weren't real you would think he were Wiley Coyote in a Roadrunner cartoon, which is exactly how Scott described his predicament.
November 2008: Scott, recently I have gotten requests from two different TV producers trying to find you. My suspicion is that you don't want to be found, but if you do and want to be contacted, please let me know.
January 2008: Another day, another request for Scott Lutz contact information...

MythBusters
On a MythBusters episode that first aired on August 10, 2005, the show concluded, after dropping a piece of an airplane fuselage about 2,000 feet, that it was plausible that someone could survive such an incident, even though their test dummy, Buster, was crushed in the fall. Had he been sitting in another part of the fuselage, they surmise, the outcome would have been different. The show was inspired by Vesna Vulovic's amazing survival story. It seems to me that Vesna already proved the point beyond a shadow of a doubt, but that's TV for you.

TV Documentaries: Takes 6, 7, and beyond
July 2006 (list updated October 2011): We have recently gotten two new requests from different researchers at an independent film company in the U.K. called Wall to Wall Television. The first request came from Sajjad Bhatti who wanted to know how to get in touch with Vesna Vulovic. The other came from Melisa Akdogan, who wanted contact information for some individuals who had survived a long fall. I have to admit I'm getting tired of these requests. I only have contact information for a few people and if they wanted to be on TV they have had multiple chances by now. Still, if you survived a free fall and are dying to get on TV, then send me an e-mail and I will send your name to the next film company that contacts me.

Amazingly, Wall to Wall is based in the United Kingdom, which is now the acknowledged world leader in free fall documentary proposals (I'm begging you Brits, have you ever seen one of these shows on TV?).

For your reference, here is the scorecard. There are even more than I previously thought:
January 2003: Easy Film (Denmark)
April and July 2003: Beyond Productions (Australia)
August 2003: OR TV (UK)
September 2004: Granada TV (UK), "I Survived Freefall"
March 2005: A Japanese film company
March 2005: Unique TV (UK)
December 2005: Pioneer Productions (UK)
June and July 2006, and January 2007: Wall to Wall Television (UK)
October 2006: David Brady Productions (US)
March and May 2008: History Channel/Modern Marvels (US)
August 2008: Dateline NBC (US)
November 2008: Nash Entertainment (US)
January 2009: Pilgrim Films & Television (US), "Moments of Terror"
October 2009: Discovery TV/Cineflix (US)
September 2010: Story House Productions for National Geographic (Germany)
November 2010: Tigress Productions (UK)
September 2011: Weird or What (US)
October 2011: Generation Earth (UK)
Herzliche Willkommen to readers of the German magazine PM
May 2006: A correspondent from Germany wrote to say that a reference to the Free Fall Research Page was included in an article in the April 2006 edition of PM magazine. The article, by Sabine Schwabenthan, is called Wunderbare Rettung (Miraculous Rescues). Fortuitously, our travels bring us to Germany this coming week, which will give us the chance to see the full article. In the meantime, we wish a hearty welcome to German visitors to the site. We would greatly appreciate the addition of any German-language stories that we have missed. Danke!

Why Am I alive?
We recently received the question of all questions from someone who fell a long distance: Why am I alive?

Lt. John T. Kryway's Low-Level Ejection
April 2005: Many thanks to Gary Schreffler for his help in providing photographs and additional details about Lt. John T. Kryway's low-level ejection from the aircraft carrier Roosevelt.

Stephen Rules' Double Malfunction
Thanks to Clay Carlson for putting us in touch with Stephen Rules. Stephen survived a double malfunction in June of 2001 in Salt Lake. He describes this incident on his web site.

The Shayna Richardson Story
March 2006: We've given Shayna Richardson's story its own page. Shayna Richardson, 21, of Joplin, Missouri, survived a fall under an uncooperative reserve chute that sent her spiraling into a parking lot at an estimated 50 miles per hour. Her fall was recorded on video. We've included links to the video, as well as comments from her aunt and one of her instructors.

Note: Shayna Richardson had a healthy baby boy in June. His name is Tanner. Click here for the CBS News story and video.

CBC Freestyle Interview
On Friday, January 13th, 2006, Green Harbor Publications' own Jim Hamilton was interviewed on the CBC program Freestyle where he was described as a "guy who's obsessed with people who've fallen from great heights." We know that many Canadian listeners heard the interview because of the e-mails we received right after the show broadcast. These e-mails contain some great new stories that we'll be reporting on in the coming weeks including a Spitfire pilot who survived a fall after the tail of his aircraft was cut off, a World War II bomber crewman who survived a fall in wreckage, and a free faller who slid down a snowy mountainside in Germany.

TV Documentary, Take 5
December 2005: I believe this is the fifth time that I have received an inquiry from a film company about a possible Free Fall related project. This is the third request from the UK where falling appears to be a national pastime. Earlier requests came from a Japanese company and a Danish company. I'm not really sure if anything ever came of the previous projects. If you happened to be a Brit who has survived such an incident, then you may wish to contact Kate Griffiths of Pioneer Productions.

The Sad Case of Stephen Hilder
September 2005: Stephen Hilder died in a skydiving accident in July of 2003 when his parachute did not open. Later it was discovered that the chords on his main and reserve parachutes had been deliberately severed. Now it appears that the chords were cut by a pair of orange scissors that were found in the trunk of Hilder's car. His DNA was the only DNA found on the scissors. Although it is possible that someone wearing gloves could have cut the chords while the parachute was in the trunk, there is now suspicion that Hilder's death may have been a suicide. Whether it was a murder or a suicide may never be known.

Before the suicide theory came to be, a detective in the case told BBC radio, "Whoever did this must have had a knowledge of parachuting. They must have known that when he jumped out of that plane he had no chance of surviving." The "no chance" statement caught my eye, because, as readers of this blog should know, the detective really should have said that Hilder had "only a very small chance of surviving."

The case has something in common with the case of a man named Cary Hopwood who survived a fall with a failed parachute in Illinois in 1996. The Stephen Hilder case brought renewed attention to Cary Hopwood's fall, because his parachute was also sabotaged. No one was ever charged in Hopwood's case. Hopwood was filming with a helmet camera for MTV when his accident occurred.

The Naked Flying Wing
August 2005: Geoff Granum wrote with some suggestions about surviving a long fall by forming yourself aerodynamically into the shape of a wing. He's not saying it would actually work, but it's better than doing nothing. Here are some excerpts from what he wrote:

"Strip naked. If you want lift, you need smooth airflow. Those baggy sweats won't give you the laminar airflow you are going to need for optimal lift.

"You need get yourself moving feet first. Your great big fluffy head just isn't going to be a good leading edge for this wing we are trying to make.

"Arch that back! Get that butt in the air!

"Toes pointed, like you just jumped off of a high dive.

"Get your arms up by your head. Line 'em up with your back. Remember that you are trying to look like a wing.

"Draw a line from your toes to your extended finger tips: If that line is more than a few degrees from the direction of your motion, you aren't generating lift. Don't move your arms too far though; if you bend too far you aren't a wing any more.

"While you should aim for the same general motion (gentle swaying, alighting with grace upon a soft green earth etc), recognize that your minimum speed will need to be over 100 miles per hour to keep you from 'stalling'. Remember, you are turning your vertical velocity into horizontal velocity.

"If you can, aim for a major highway and try to land on the back of a semi tractor trailer. Don't miss, because nobody would ever believe it if you fell from 30,000 feet, bounced off of a highway and lived, only to get hit by the semi you were trying to land on. The reason for the highway is because nobody you land near is going to be looking for you. If you did things right you are miles from where that plane went down.

"If you can make the semi landing, great; that will soak up around 75 mph of horizontal velocity. And the thin tin roof might break open. Just hope it's a Charmin truck, not a Bud truck.

"If you should live, this will be the defining moment in your life. You could save the pandas, feed all the starving children in Africa or discover aliens. It won't matter. There will be 10 times the number of articles describing how you lived through a major plane wreck, mostly focusing on the naked part."

Go out and buy David Carkeet's new book
August 2005: Did you like David Carkeet's The Unplanned Freefall? If so you will want to read his new book: "Campus Sexpot." It's a memoir of his boyhood days growing up in a small town in California. The central theme of the book is the impact on the community of a soft-porn novel that takes the town as its setting and uses thinly veiled take-offs of residents as its characters. Carkeet has written a great story about growing up, impending manhood, and the craft of writing. The book is published by the University of Georgia Press and is available for $22.95. See the David Carkeet web site.

What you would see if you fell from 30,000 feet...
If you want to know what you would see if you fell from 30,000 feet then have a look at the film 'G' by filmmaker Rolf Gibbs. He intentionally dropped a camera from an airplane. It was weighted to fall lens down and protected so that the video would survive the inevitable collision with the earth. It is a peculiar and amazing film. You can watch G on-line. There is also information on-line on how G was made. Thanks to Hutch Hubbard for sending this tip our way.

It turns out that you might not see much at all unless you remembered to strap a set of goggles around your neck prior to your fall. See the Questions page for some additional details courtesy of Travis Brown.

Hugh de Haven and Richard Snyder
July 2005: IP Online, an international peer review journal for health professionals and others in injury prevention, has in its web-accessible database a 1942 study by Hugh de Haven called "Mechanical analysis of survival in falls from heights of fifty to one hundred and fifty feet." These folks didn't fall out of airplanes, in fact, it appears as if most jumped from apartment buildings. The writing is clinical and the subject is pretty gruesome, but de Haven's work takes the details from these sad tales of survival with the intent of using the knowledge gained to improve the survival chances of people in aircraft and automobile accidents.

De Haven's work was continued by Richard Snyder (see the Recommended Reading page for some additional details) whose research entitled "Human Survivability of Extreme Impacts in Free-Fall" and "Fatal Injuries Resulting from Extreme Water Impact" are part of the body of research that helped in the development of seatbelts and airbags. Snyder's work first came to my attention in Mary Roach's book "Stiff: The Curious Lives of Human Cadavers." Roach describes Snyder's work because of its value in determining the cause of an airline disaster over deep water, where the only evidence that may be available are the recovered bodies of passengers. Their injuries may provide clues about the cause of the accident.

I was reading the de Haven study the other day and was overwhelmed by it. When you are done reading you want to go outside and take a breath of air. It's not the kind of life's work that a typical person could face day-in/day-out. IP Online calls "Mechanical analysis..." an "Injury Classic." If you are interested in having a look, IP Online's URL is http://ip.bmjjournals.com (search on "de Haven" to find de Haven's study).

Who's Next?
July 2005: For some reason this turns out to be the time of year when you almost begin to expect the next incident to occur. The most recent one that we know of was Charles Williams in October of 2004. His fall was preceded by Christine McKenzie in August of 2004. Both of these incidents, oddly enough, were in Africa. Who will be next?

October 2005: It turned out to be Shayna Richardson.

What About Japan?
As this is an English language web site, my correspondence is generally limited to folks who can read and write English. This is an inherent bias, and not one that I can do much about.

Still, it bothers me that there are not more stories from other parts of the world. One thing stands out in particular. Given the number of cases of Allied airmen surviving a long fall during World War II, I suspect that there must be similar numbers for Axis airmen.

And so I have a special request for anyone with a knowledge of Japanese World War II aviation: do you know of any free fall stories?

Why Does The Free Fall Research Page Site Exist?
The Free Fall Research page got started after I had finished a book on a group of World War II journalists called the Writing 69th. They had trained to accompany a U.S. bombing mission on Germany. In the process of researching that book, I came across a number of stories that caught my imagination. One was Joe Jones' amazing tale of surviving a long fall in the severed tail of a B-17 bomber. The other was the unbelievable story of Alan Magee's parachute-less fall through a skylight at the train station in St. Nazaire.

The beginning of a project like this starts for me with a question that I'd like to have answered. For 'The Writing 69th' the question was: What makes a journalist risk his life for a story? For the Free Fall Research page (which ultimately will be a book) the question is: How many of these stories are there, and are they true?

I have been collecting supporting evidence such as newspaper articles and personal accounts. As I have the time to sort them out and organize them, I will start the process of writing the book. Putting a book together with these stories could be a little difficult. In general, writers like to begin slow, build to some climactic moment, and then conclude. Each of these stories has the same pace, and very similar emotions: a few brief screaming moments of terror followed by intense pain and a period of recovery. Try stringing a few of them together and it comes out like this:
Aaaaaaaah! Thud, ouch...
Aaaaaaaah! Thud, ouch...
Aaaaaaaah! Thud, ouch...
Aaaaaaaah! Thud, ouch...
Aaaaaaaah! Thud, ouch...
(you get the point)

You say Al-cuh-may-dee, we say Al-ka-my-dee*
March 2005: Another film company, this time one from Japan, has been in touch about a free fall incident. The Japanese, it seems, are very interested in Nicholas Alkemade. We provided some source information and in speaking about Mr. Alkemade on the phone we realized that we are not really sure how to pronounce his name. We have been saying "Al-ka-my-dee" but only because it sounded good. Does anyone know how to pronounce his name? If there are any Alkemade relatives out there, please contact us. You might get a speaking role in a Japanese documentary.

*As it turns out, the right pronunciation is Al-key-maid. Our thanks to Jarrod Alkemade for setting the record straight! Jarrod, who is from Australia, does not think he is related to Nicholas...

Jolanda Dubbeldam-Alkemade writes: "I grinned about your pronunciation experiments with the name 'Alkemade.' As a life-long world traveller born to the name I can tell you a story or two about the interesting variations out there! However, Alkemade is a good, traditional Dutch name. People settled in other countries are free to pronounce it as they wish, but in Holland we all (no discussion possible) say: ALL-kuh-mah-duh." We then had an extended correspondence on the 'verbal color' of 'uh.' You see, Jolanda was not only born to the Alkemade name but is also a linguist and she stressed that the Dutch pronunciation of 'uh' is different from the English 'uh' basically a shorter sound, formed with the mouth more rounded, and closer to the front of the mouth. So, we have the final word on how the name is pronounced in Australia and Holland. But what about England?

May 2012: Another correspondent writes and says that "the English pronunciation is Al (short a), kem (short e), ade (long a, silent e)."

Charles Williams Story
October 2004: Thanks to Charles Williams' brother, who contacted us before the story even hit the press! See the Incident Log for more details.

Another Documentary
September 2004: We received an e-mail from Granada TV in the United Kingdom. They are working on a documentary called "I Survived Freefall," which should air later this year. Keep an eye out for it. Also, did anyone ever see the Easy Film documentary described below? If so, let us know.

Christine McKenzie's Fall
August 2004: Thanks to Peter Ceulemans for letting us know about Christine McKenzie's fall in August of 2004 (see the Unlucky Skydiver section). Here is the story in the South African newspaper The Star.

Sgt. Ogwyn Francis George Is the Sunderland Tail Gunner
The Sunderland tail gunner has been identified! See the Incident Log for more details.

Our Rosetta Stone
The Free Fall Research page equivalent of the Rosetta Stone has been found. See Recommended Reading. As a result, four entries have been added to the Other Amazing Stories page

First Person Account
Robert Leeds wrote a first person account of his terrifying fall and last-minute recovery.

Help Tyco Walk
In December of 2001, Tyco Zeletineanu fell 4,000 feet under a partially open parachute and suffered grave injuries. However, she is recovering and tells her story in excruciating but inspiring detail on a web site called www.helptycowalk.com. (The site no longer appears to be active...)

Don't Try This At Home...
February 2004: Professional goofball, David Blaine, has announced that he will jump "hundreds of feet from a helicopter into a river." He is planning this for his birthday, April 4, 2004. (4/4/04, isn't that nice?) He is coming off of a 44-day stay in a plastic box in London. (Does he have a thing about fours?) This might be a good time to remind readers of this web site that almost everyone who falls that far dies, assuming they don't have a working parachute. A teeny percent will survive, it is true, but many of those who do are gravely injured. If you are thinking about jumping any significant distance without a parachute, take our advice: Don't do it.

Note to Mr. Blaine: Life is precious. Start thinking about getting a real job to earn money. It's not that bad. Really.

Note to the note: April 4th has come and gone, with no indication that Blayne's helicopter jump occurred. Has anyone heard anything new on this? If so, please send a note to Jim Hamilton.

Flight Journal Magazine Article, February 2004
February 2004: Keep an eye out for the February 2004 issue of Flight Journal magazine. It has an article called 'Bailout!' by Barrett Tillman that includes references to several stories that appear on the Free Fall Research page. The story also provides new detail on Greg Elcock and an ejection seat incident that is covered in the Other Amazing Stories part of this web site.

The 508th Parachute Infantry Regiment
February 2004: While doing a web search we came across an excellent site on the 508th Parachute Infantry Regiment ("the famed Red Devils of the All-American Division in World War II"). The 508th Parachute Infantry Regiment web site is a perfect model of what military unit historical sites should strive to be.

Note: We have been in touch with the site's webmaster but he does not know of any free fall incidents that happened to members of the 508th.

Richard G. Snyder: The Father of Free Fall Research
Ever heard of the work of Richard G. Snyder? If there were a Free Fall Research Hall of Fame, he would be in it. He didn't survive a lengthy fall, but he did extensive research on the injuries of people who fell (and died). See the Recommended Reading page for more details.

Free Faller Alan Magee Died in December 2003
December 2003: Alan Eugene Magee (see Free Fallers) died on December 20, 2003 in San Angelo, Texas. He was 84. His obituary appeared in the Sangre de Cristo Chronicle.

We Beg to Differ, Detective
Many of you will have read about Stephen Hilder, who died in a skydiving accident in July of 2003 when his parachute did not open. Later it was discovered that the chords on his main and reserve parachutes had been deliberately severed. Detective Superintendent Colin Andrews of the Humberside Police told BBC radio, "Whoever did this must have had a knowledge of parachuting. They must have known that when he jumped out of that plane he had no chance of surviving." Perhaps we should forgive Detective Andrews for his "no chance" statement, but we would hope that many skydivers, as well as readers of this web page, would have said instead that he had "only a very small chance of surviving." (Note: See the Incident Log under Cary Hopwood for additional information on this case.)

Danish Documentary
January 2003: A Danish media company named Easy Film is working on a documentary about people who have survived long falls. If you have survived such an incident and are interested in being interviewed for this documentary please contact Jon Micke of Easy Film.

Vesna Vulovic Can Walk!
Many thanks to all of the people who pointed out the Aviation Security magazine article about Vesna Vulovic and informing the Free Fall Research page that she recovered from her paralysis and can now walk. This site is now updated to reflect that. (See Wreckage Riders.)

Fictional Falls
Visit the Fictional Falls section to see how these incidents have been depicted in movies and books.

The Writing 69th Home Page
The Writing 69th home page is now at Green Harbor Publications.

Help Us with the Incident Log!
We need your help with the Incident Log. We are lacking important details or need additional confirmation on a few stories and we need your help tracking down that information. Please have a look at the Incident Log and e-mail any supporting information to Jim Hamilton. This page also includes the most recently-reported incidents.

Lots of Good Stuff on the Recommended Reading Page!
Please visit the Recommended Reading page. Don't miss David Carkeet's survival tips or the Poetry Corner.

Survivors Talking to Survivors
Recently, an Unlucky Skydiver contacted the Free Fall Research page. She is interested in speaking with others who have had the same experience. If you have survived such an incident and would be interested in speaking or corresponding with other survivors, please contact Jim Hamilton.

August 2004: We are pleased to report that we have been able to put two "Unlucky Skydivers" in contact with each other as a result of this notice on the Free Fall Research Page.

Got Stories?
Got any stories? If you know of a free fall survival story that doesn't appear on this site, please send an e-mail to Jim Hamilton.